Before we go too far down any path, a few summary bullets of things we sort of know — either because they happened or because the reporting on it is signifying as much:
The Lakers have waived Tyler Ennis, clearing his salary off their books.
The Lakers have waived Thomas Byrant and cleared his salary, but will guarantee Ivica Zubac's salary for next season.
LeBron James is leaning towards joining the Lakers in free agency.
Paul George is at the very least strongly considering staying in OKC in free agency, and could indeed choose the Thunder over the Lakers.
The Spurs remain reluctant to trade Kawhi Leonard to the Lakers and, if they do, would expect a Celtics/Nets like haul from LA because they feel like a trade of Kawhi to the Lakers would gift them LeBron.
This is the backdrop heading into free agency which starts, oh, in roughly 4 hours from the time I am typing this. With all that as the context, I've been thinking for some time about what my ideal off-season would be. While I've told you there are no bad scenarios this summer, one — at least in my mind — is above the others.
So, here we go…
1). I want the Lakers to sign LeBron James. There's a portion of Lakers fans who have their issues with James for reasons which I won't get into now. And, honestly, I have my own questions about adding James, but I'll save those for a post should he actually join the team. What I'll say here, though, is that James remains either the best player in the league or the co-best player. Simply, put, then, I want the league's best player on the team I root for.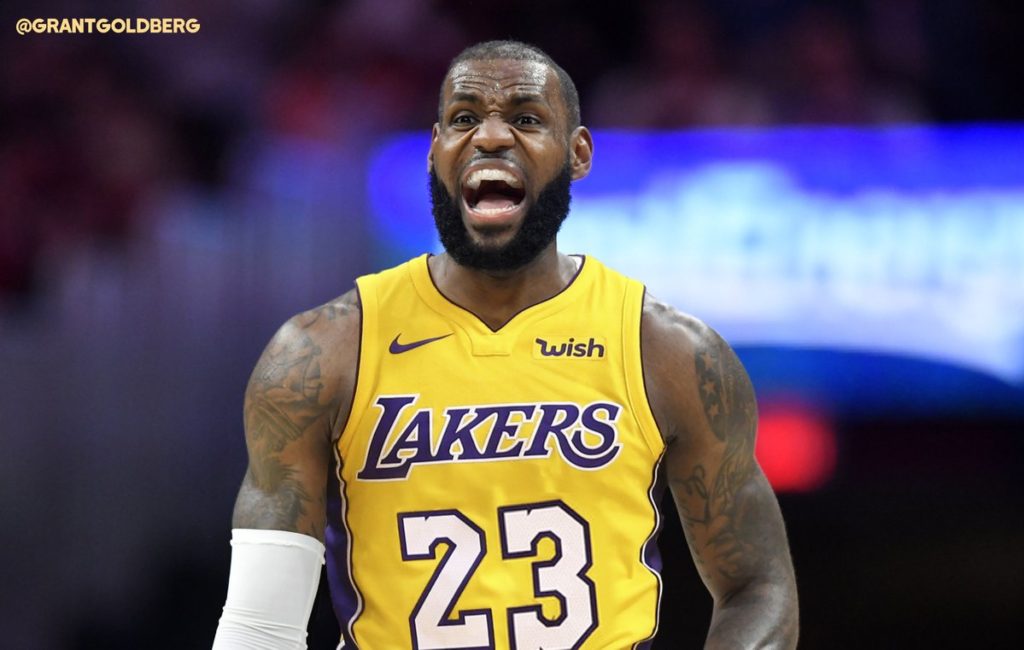 2). Re-sign Julius Randle to a contract where his salary for the 2019-20 season is roughly $12.7 million. This number is important and I'll explain it soon.
3). Bring back Brook Lopez on a 1-year deal. The salary on this contract will be dependent on a lot of other factors — with whether Luol Deng is on the team the biggest one.
4). Bring back Kentavious Caldwell-Pope on a 1-year deal. The salary on this contract will be dependent on a lot of other factors — with whether Luol Deng is on the team as the biggest one.
5). Keep all the young players — at least for now. I already mentioned Randle. But, I also mean Brandon Ingram, Lonzo Ball, Kyle Kuzma, and Josh Hart too. I want all these guys on the team next season. All. Of. Them.
Now, the first thing you'll notice is that signing Paul George in free agency is not on my list. You'll also notice that trading for Kawhi Leonard is not in my list. The reasons for these are linked. I really only want one of these players on the roster moving forward and the one I want is Kawhi Leonard.
Okay, let me take a step back.
If George were to come in free agency, the Lakers cannot turn him down. I not only understand that, I believe and support it too. I also get the "a bird in the hand…" saying applies here and believe that if you can secure either George or Leonard by most any means, you do it. So, I'm not sitting here saying anything bad about George by saying I wouldn't sign him in free agency. Nor am I trying to devalue Leonard by saying I wouldn't trade for him right now. These are both great players. The Lakers would be lucky to have either. To have both…it'd be like winning the Powerball twice.
But, if I'm looking at my ideal off-season, I'm looking towards building a team that is competitive next season while, long term, looking to build a team with LeBron and Kawhi as the centerpieces. And I think the way you accomplish that is two fold.
First, you get LeBron James (duh). The Lakers will have their chance to pitch LeBron and all the signs/whispers/gambling odds/rumors point to them having the inside track to get this done. And not only get it done, but do it early in free agency without any commitments from other superstars to join him. Basically, if that happens, LeBron would be signaling to the Lakers that he trusts them to build a great team around him.
So, if I'm the Lakers and that is how it plays out, I then trust that I have the right roadmap to be able to build a longstanding contender. And that roadmap is much more defined with Kawhi as the other superstar. Because, and this is with no offense or malice, Kawhi is better than George.
Second, then, is maneuvering things in a way which keeps the Lakers in a strong leverage position in talks with the Spurs and in a strong leverage position vs. the rest of the league when it comes to their ability to sign Kawhi in free agency in the summer of 2019. Said another way, if Kawhi is saying behind the scenes — and reports say he is — that he "plans to go to LA next summer", the Lakers must maintain a position where that is actually possible. Any move which impacts their ability to simply sign Leonard outright lessens their leverage.
So, what I propose is pretty simple. Keep that cap space open while trying to retain the good players you already have. First amongst them is Randle, but this is where things get tricky.
Randle has a cap hold of $12.3 million this year. I'm not sure if he would take a deal at that number now, honestly. Restricted free agency could squeeze him, especially since one of his major supposed suitors, the Mavs, is smitten with DeAndre Jordan. The other side of this, though, is that a team like the Nets could throw a wild offer sheet at him which muddies all these waters.
In saying all that, I think if all things are nearly equal and Randle could secure a future with the Lakers, he would like to return. But, if he does, his salary for the 2019-20 season must be at the aforementioned $12.7 million mark to ensure that the Lakers have enough cap space to sign Kawhi to his max. Any number over that amount is a dollar the Lakers either have to shed in a trade or a dollar they have to shave off Kawhi's starting salary. The latter isn't really an option for me. The former only makes things more complicated.
So, they're best to keep Randle's salary where it needs to be. Now, the structure of the contract could be he makes more money his 1st season, the contract declines to where it needs to be in the 2nd season, and then goes back up. There's lots of salary cap chicanery that can be executed. But that number is the number. They would need to make it happen.
Now is where we get into the other tricky part. Let's talk Luol Deng.
Deng doesn't have to go now, but he has to go before the moratorium ends next July. And he needs to go without any salary coming back. If the Lakers can do that this summer, without it costing them more than future draft assets and none of the young players, I'd support it. However, if they wait until next summer when Deng has only one year left on his deal, the cost to unload him should be even lower.
For the Lakers, then, they must weigh how important it is to get off of Deng's money now, the cost they'd be willing to pay to do it, and then weigh that against the FA's they have in mind for this summer, what is getable, and how much that matters vs. potential assets you save by waiting until next year to try to move him. These are not easy decisions, but they're ones they'll have to explore.
In saying that, here is the math:
If we sign LeBron, keep all the kids, and re-sign Randle, we'd have the following cap space depending on what we do with Deng:

*Keep Deng: $13.1M
*Stretch Deng: $22.9M
*Trade Deng & future picks: $30.3M https://t.co/6OIKmyKOea

— Reed (@Reed_nba) June 30, 2018
Stretching Deng is not an option in my ideal Lakers summer, so it's either $13.1 million vs. $30.3 million. And, based on what I laid out for how I'd spend that money, this is a conversation that will ultimately need to be had with the agents for Brook Lopez and KCP. If you can get both to come back under the constraints of the $13.1 million available (plus the Room Mid-Level Exception of $4.4 million), you simply do that and wait to move Deng. If you cannot, you try like hell to move him.
For what it's worth, I think Lopez would be willing to come back under a reduced salary. For KCP, I'm not sure. That said, Pope shares an agent with LeBron, so maybe he'd be amenable to a really reduced salary. These are unknowns and I won't pretend to know how those talks would go. If worse came to worse, I'd try really hard to bring back Lopez and would look for alternatives for KCP on the market. There are other guards out there who would likely take a small 1-year deal from the Lakers if my ideal summer played out as described above. So, yeah.
Ultimately, everything I've typed out above is just a pipe dream for me. I've no clue of LeBron is coming and, honestly, I don't even have my hopes up. The same is true of George. And who the hell knows what the Spurs are going to do with Kawhi. As I've written, the Lakers could bring back all their young players, not add any superstars this summer, roll over their cap space to 2019, and I'd be perfectly happy.
But, if you're asking me what my ideal summer would be, it's all right there above. Give me that over anything else and I'll do backflips.