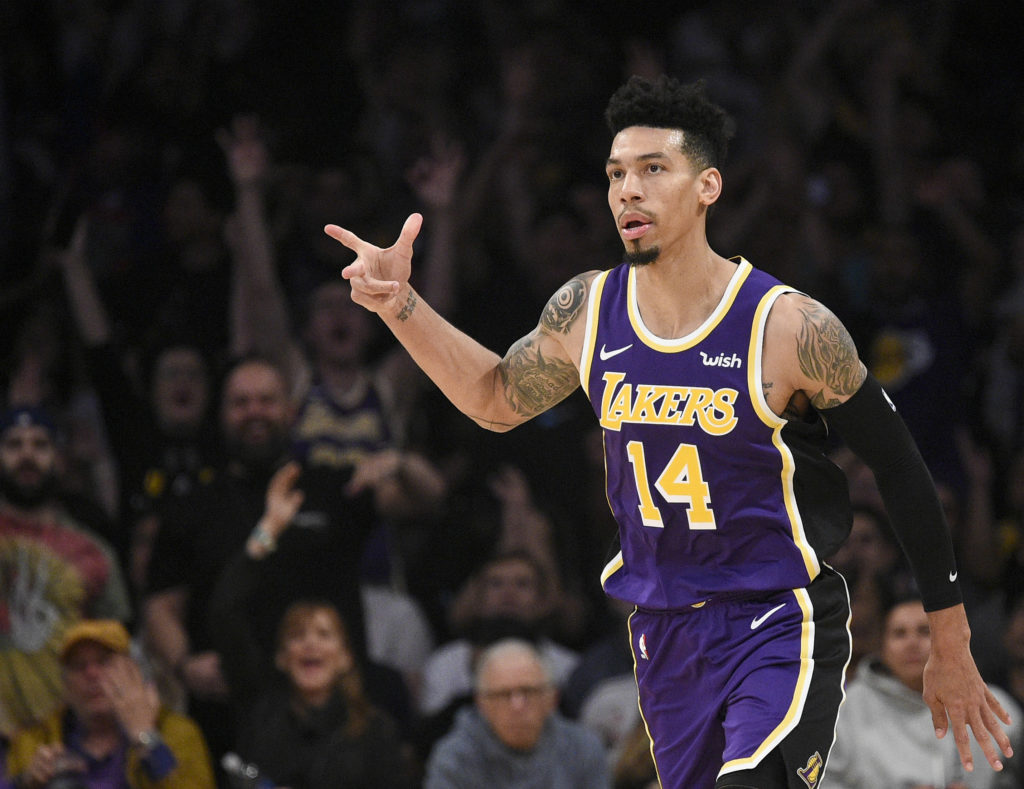 Danny Green averages 8.6 points a game. He grabs you 3 rebounds a night and it takes him two games to dish out that many assists, on average. On some nights, you might not even know he played if all you did was check the boxscore the next morning. Oh, what's that? Danny Green had 9 points on 3-7 shooting with an assist and 4 rebounds? Okay, sure, that sounds right. What did Alex Caruso do, though?
If an NBA roster were a restaurant menu, Danny Green would be the Cesar Salad. A fine choice, for sure, but a side dish or an appetizer that only complements the main course and certainly not the dessert that you look forward to at the end. Most times, though, you just skip the salad entirely and order the calamari instead because you can always get the Cesar the next time.1It's lunch time and clearly I'm hungry. Let me live.
Coming into this season, however, Green was the Lakers' prized free agent get. After Kawhi spurned them in early July, the Lakers quickly pivoted to his former Raptors and Spurs teammate, locking him into an eight-figure a year contract to come and start at shooting guard. Green was nearly universally hailed as a great pickup and slotted into the starting five as quickly as LeBron and AD were.
These two things, when taken on their face, seem to stand in direct conflict to each other. A relatively high priced free agent who doesn't stuff the stat sheet is a guy we should celebrate? Yes. Yes, we should. Green is the quintessential role player. In a league where superstars lead you to championships, it's players like Green who grease the tracks for those stars to play to their strengths rather than devoting too much energy to covering up the weaknesses of their teammates.
Green is almost always in the right place on both sides of the ball. Defensively, he makes the extra effort while also showing a great grasp of the game plan and then strictly adhering to it. Offensively, he makes shots, doesn't play outside of his strengths or role, and just slides right in to the creases his star teammates open up by being star players.
There is immense value in playing the game simply and smartly. Green, in his 25 minutes a night, does just this and it shows up in ways that go beyond points, rebounds, and assists. Yes, Green plays nearly all of his minutes with LeBron James on the floor and the lineup data and on/off numbers get inflated because of that partnership. That said, last season how often did we talk about LeBron's teammates not fitting well next to him to the detriment of overall team performance? How much would that team have killed to have a player like Green?
It helps that Green's a veteran with championship experience. It also helps that, with his experience, he offers a calming influence that preaches teammwork and togetherness as the means to get to where this team wants to go. There's a respect this earnestness grants him and he seems to understand how to position himself to be a leader even as the star players provide the overall direction of the team.
Green, to his credit though, doesn't just lean on his past successes. Earlier this season Frank Vogel said that you lead by performing on the court and while Green's numbers are basically right around where his career averages are and, as said earlier, don't stand out in a crowd, he's had two of the more exciting plays for the Lakers this year — which count for something.
I mean, remember this?
Or what about this?
Another thing that Vogel has said throughout this young season is that he wants players to be a star in their role. This is oft-used coach speak to get players to buy into lesser roles and to play their best in them to help the team. Green, though, doesn't seem to need any coaxing. He knows exactly who he is and how he can help each night. And while there have been ups and downs for him this season,2One area he's struggled is by getting into early game foul trouble. he's been exactly what the Lakers have needed him to be.