Sometimes you just have the best player and that guy decides he's going to show everyone that he has the best player. The Lakers — thankfully, for those who root for them — experience this more nights than not. In their 118-109 win over the Pelicans, this was one of those nights. The Lakers had LeBron, the Pelicans did not, and LeBron seemed determined to show everyone that he was the best player.
If that's all I wrote about this game, it would probably be enough. But because I've not written as much lately, here's a little more.
This game was billed as LeBron vs. Zion and, in terms of billing, it lived up to the hype in a lot of ways. Again, LeBron was great. 40 points, 8 rebounds, 6 assists. He hit 5 of his 11 attempts from deep and had several highlight dunks. He controlled the game whenever on the floor and dictated the terms of engagement whenever the game slowed down. His power post up game was relentless and with the Pelicans loathe to send too much help, he feasted against the smaller Jrue Holiday in isolation.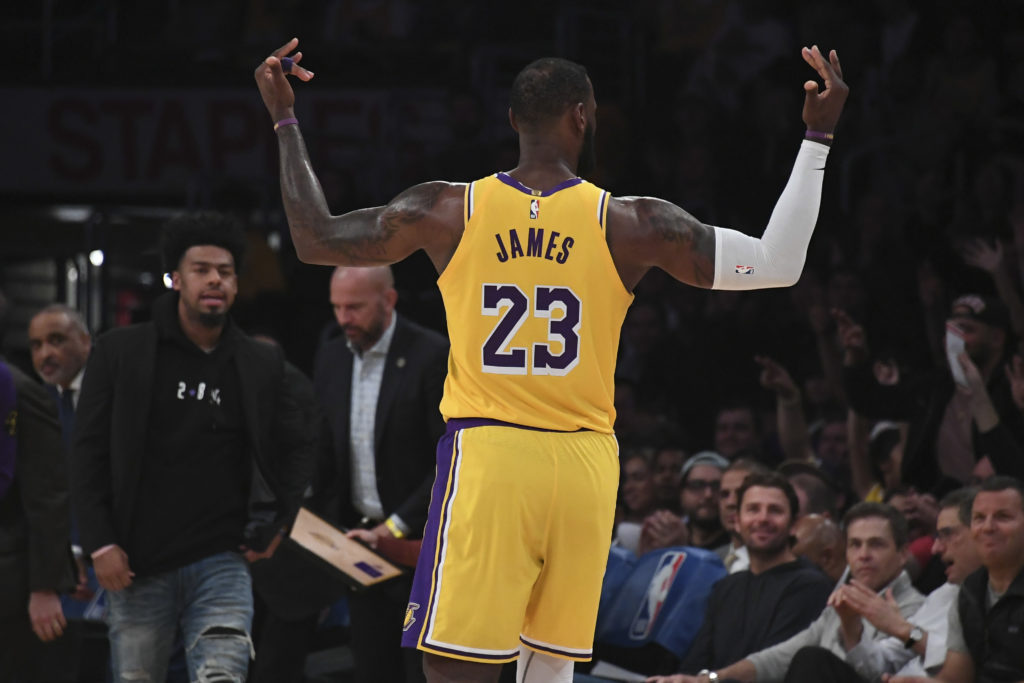 Zion, too, was fantastic. 29 points on 8-18 from the filed and 13-19(!!) from the foul line. His explosiveness is jaw-dropping and not just in the "I jump really high" way. His first step is lightning quick and his body control is truly remarkable for a player of his proportions. If the NBA was Street Fighter II, Zion would be some wild mix of Balrog and Blanka, bulling through defenders when they got his way, but also jump-cutting and "getting small" to burrow through creases that defenses leave available because players aren't supposed to be able to access them.
The top of the marquee, then, did their jobs and gave fans the value of their ticket through the exciting plays they mustered throughout. This game was more than them, though, and I'd be remiss if I didn't offer a few more shoutouts.
Anthony Davis wasn't his best this game, but he was still quite good. It's to the point where his numbers pop regardless — 21 points, 14 rebounds, 3 assists, 6 blocks, 1 steal — but on 8-21 shooting he did not bring his normal efficiency. He was bodied in the post, missed a couple of shots in-close when defenders got into him, and there were times where he just floated offensively, settling for jumpers that did not fall at a good enough rate — or at least a rate below his normal standard. Still, though, AD was a key cog in the win, just as he is most other nights. His two-way impact is just too big to be ignored.
Credit Brandon Ingram, too. The former Laker was strong offensively, particularly after the Lakers jumped out to their big early lead. Ingram's steady shot making and playmaking for others helped the Pelicans stay connected throughout, and without him this game is probably out of hand by the time the 4th quarter rolls around. But Ingram poured in 34 points on 12-20 shooting, giving the Pels an offensive fulcrum in halfcourt situations when the game slowed down.
Ultimately, though, Ingram's halfcourt exploits and the Pelicans want to push the pace couldn't hold up against the LeBron and the Lakers superior execution in the halfcourt when the game was tight. When it was time to win the game, the Lakers defensive rotations were sharp and their offensive gameplan to bludgeon through the post overwhelmed. In other words, the Lakers were as good as they needed to be and when you're the better team, that's all that matters.
So, on to the next one. The Lakers travel to San Francisco to face the Warriors on Thursday, hoping to continue their win streak. Before that, though, some notes…
Alex Caruso probably should have made the top part of this post, but instead I'll give him top billing in the notes. In 17 minutes Caruso scored 8 points on 3-5 shooting and had 8 assists to only 1 turnover. Add in his 3 rebounds, 2 steals, and 1 block and he had a wonderful all around night on both sides of the ball. It's no wonder, then, that he was a team best +20 in the box score — the team was simply so good with him on the floor, mostly due to his hustle and effort do a bunch of things that just help you win. I sound like a broken record when it comes to Caruso, but he he needs to play more even though his minutes have seen an uptick relative to Rondo's of late (the Celtics game notwithstanding).
Big love to Danny Green this game, too. The 6-10 shooting (including 5-9 from deep) for 17 points will obviously stand out, but I particularly liked his defensive effort this game even if Ingram did give him some fits. Green, however did more than survive against Ingram on so many possessions that won't make the highlight reels. His positioning remains impeccable and his knowing of when/how to switch and the angles to take in order to neutralize advantage is so often overlooked, even when it's critical to the Lakers' effectiveness in their halfcourt defense.
Poor Josh Hart. He somehow ended up in three highlight dunks from LeBron:
Tough night for Avery Bradley offensively. 0-8 shooting, zero points overall. Bradley's been so good the past month or so that I'm just going to ignore this game…mostly. I am hopeful for a bounce-back game on Thursday, though.
Enjoyed seeing KCP find his flow this game. He shot it well and was in good rhythm most of the night. As the Lakers guard rotation shakes itself out, KCP's two-way ability will be super important and I hope he can continue to play well in the stretch run.
Rondo and Kuzma were both bad after being pretty good against Boston on Monday. Neither had any commitment to playing defense and both seemed way too eager to simply play the uptempo game the Pelicans tried to suck the Lakers into. I'm happy that Vogel gave them the quick hook he did in the 3rd period and that they sat the rest of the game. I try not to be as hard on Kuzma in particular, but as this team gears up in this final quarter of the season, he (and Rondo) will both need to be reminded of what it will take to stay on the floor through the only currency that matters in this league — playing time. If they don't have it, get them out, particularly with other guys who can play well in those spots.
Markieff Morris saw his first minutes as a member of the Lakers and I thought he was okay. He looked a little dead-legged defensively at times and is clearly still getting up to speed on what the team does on both sides of the ball. That said, he had a couple of nice cuts for buckets, competed well in his minutes, and shot with confidence and without hesitation when he was open. Those 3's didn't fall, but I like that he's not afraid to take those shots. What I also liked: on a couple of FT's when the Lakers were at the line, Morris gave a good body check to the Pelican player tasked with boxing him out, dislodging him both times. The FT's went in, so these things will be lost in the ether, but I love little things like that; they show a physicality that this team can use a little more of.
That's it for this game. We'll have more later.