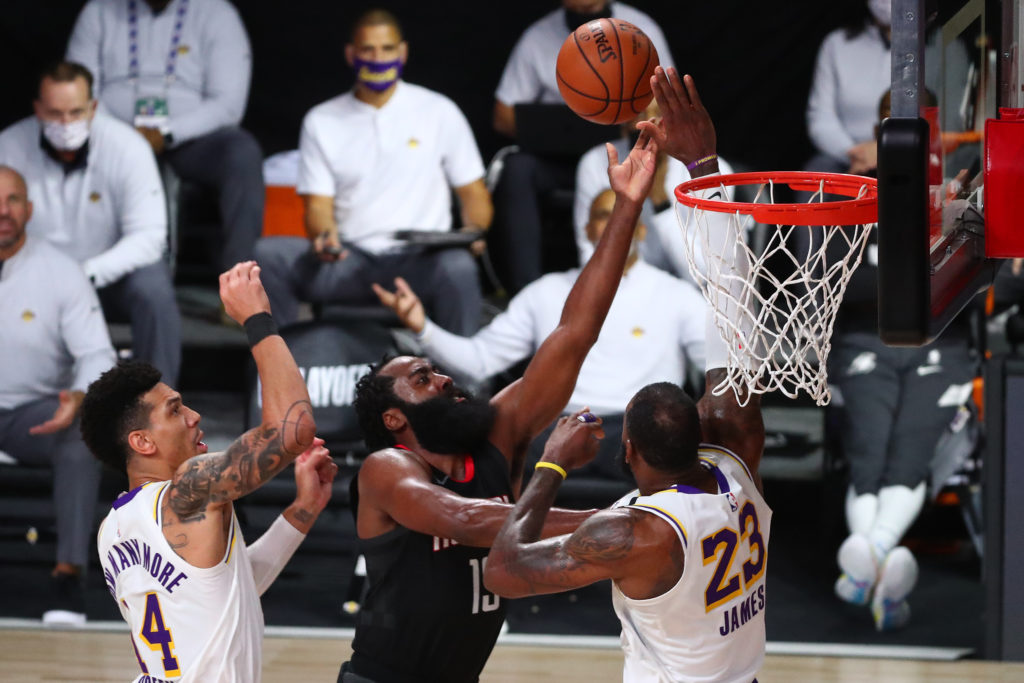 Heading into game 4 of the Lakers series vs. the Rockets, what's become pretty clear is that it's the Lakers who are adjusting to what Houston does and that those adjustments are working. The Lakers went from playing big and running a regular gameplan, to playing a bit smaller and tweaking things on both sides of the ball,1They started trapping and played some zone defensively and started using cutters and off-ball screens to open up the lane for LeBron and AD. to playing even smaller and mixing up their coverages on Harden even more. The results are two consecutive wins in the games with adjustments and clear momentum in the series.
What's also clear is that the Rockets are not going to adjust. Oh, they'll tweak some things to counter the Lakers adjustments, but their roster and the ethos (both organizationally and from their head coach) dictates that they're only going to go at this thing one way. And their goal is to simply play that one way so well that you're not going to be able to stop it as much as you'll need to in order to beat them.
(A quick aside: Have you ever seen the movie Tin Cup? It's a movie starring Kevin Costner playing a washed out golf pro who runs a driving range in Texas. He's an impulsive and unorthodox player who takes too many chances to the point that it derails him whenever he plays. Ultimately he tries to get back on the PGA tour and when playing in a qualifying tournament he has an argument with his caddy and all but one of his clubs end broken. He then proceeds to play the rest of the round with only a 7-iron and does so well enough to qualify. The Rockets are like Tin Cup in that tournament. They're stubborn, are going to play their way, and only have one club in their bag. And while they're good enough to play really well with that one club, that's really not ideal. Aside over.)
In game 4, then, one has to wonder what is left for either side to do. I find it unlikely Houston is going to adjust much, if at all. Maybe they throw a double team or two at Anthony Davis or LeBron James. Maybe they play a zone here or there, shorten their rotation, or find ways to try to free up Harden and escape LA's traps.
But, I think they're just going to come out and play exactly as they have been (or at least in the hopes of getting to the exact same actions they have been), only with a bit more desperation. They know losing this game almost certainly spells their doom in the series. Going down 3-1 while losing 3 consecutive games wouldn't eliminate them, but the hill would be too steep at that point.
Now, Houston is good enough to win by playing this way. It's just that the bar for them to do so goes up because as the series extends, the opponent gets used to seeing that single club do its thing. And so, they adjust and they tweak and they find ways to limit the effectiveness of what you do best while also finding ways to press a bit harder on your weaknesses to be more effective vs. you too.

Which brings us to the Lakers part of this equation. If I have a question for game 4 it's whether Frank Vogel will go back to his regular starting lineup with JaVale McGee or if he'll stick with his move to Markief Morris that he went to in the 2nd half of game 3. If it's the latter, then you have to wonder how that impacts the rest of the rotation. Specifically, whether JaVale will see any minutes at all or if it just means more guard minutes to go around and players sliding up a position to matchup with Houston.
Everything the Lakers do this game will pretty much be influenced by the lineup decision and, subsequently, how hard they play/how engaged they are. It's really that simple. If the Lakers can match or exceed Houston's desperation to play with the necessary level of engagement, they'll be fine. That won't be enough to guarantee a win, but it will raise their floor to the point that the other necessary things you need to win any game at this stage of the season move to the center of the frame.
That means another strong game from LeBron and AD, effective play from the role-guys (particularly Rondo and Kuzma), and enough shot making from KCP, Green, and Morris to not lose the 3-point battle by too much. None of this can be taken for granted, of course. It's easy to fall into the trap that Bron and AD will always be excellent and "playoff Rondo" making back to back appearances can lead you to slotting him into your confirmed RSVP's for this game.
This is the playoffs, though, and anything can happen. And just as we might wonder what happens when Houston doesn't shoot 40% from 3, I imagine the Rockets are wondering what happens when LeBron and AD don't shoot 60% from the floor. There are no gimme's here. It's why the playoffs are the ultimate proving ground, even for those players who just got done proving it the last game.
So, here we are. Back at the beginning of things. It sounds simple, but tonight really will come down to effort, energy, focus, and execution. The Lakers need to respond to the urgency Houston is sure to bring. And if they do that, I trust the rest to fall into place enough that they'll give themselves a good chance to win.
Where you can watch: 4:00pm start time on TNT.