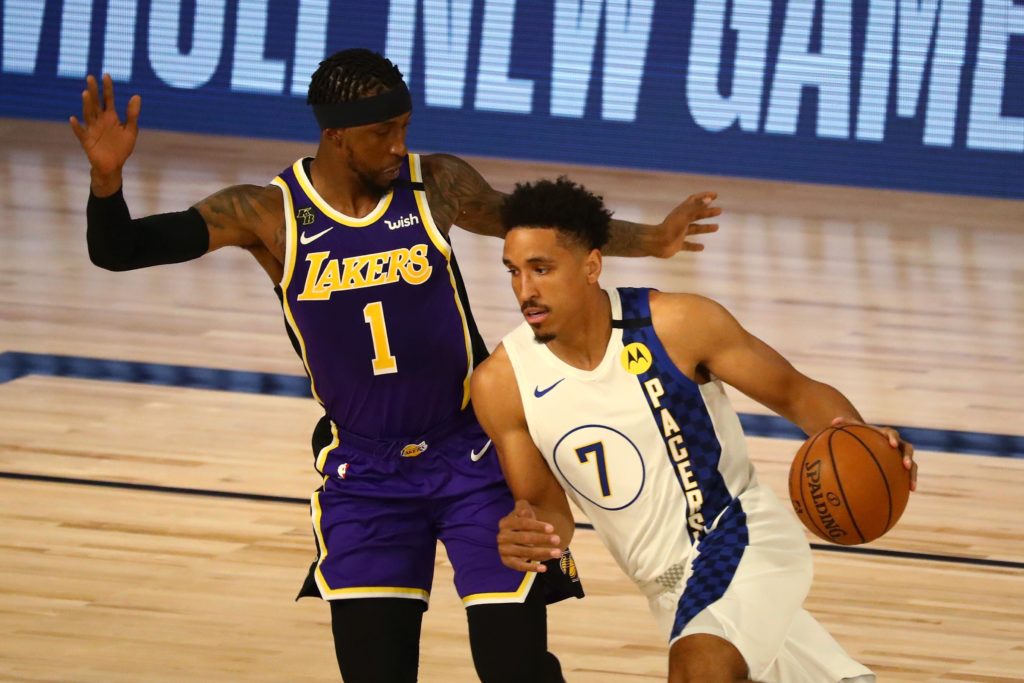 It's the trade deadline and the moves are already flowing in. The Orlando Magic are in full fire-sale mode, already dealing their starting shooting guard to the Celtics and their all-star big man to the Bulls. Their hybrid forward is surely next, with several teams in the hunt, including the Nuggets. Teams are looking to improve right now….as they should. The league feels wide open right now and a bunch of teams should view themselves as viable contenders. The Lakers included, obviously.
Now, I'm not someone with sources, so I can't tell you what I'm "hearing" and have it be anything besides what my daughter is doing on her zoom meeting for school from home today. That said, I do feel pretty informed about how things work and and I do not expect the Lakers to make a deal. As I write this we're about 2.5 hours before the deadline so, in a way, time is on my side.
What's also on my side are the pure complications and variables at play that constrict how to even accomplish viable trades. Because the Lakers are hard capped, they really can't take back more money then they send out in a deal. So, while the Lakers have been linked to Kyle Lowry, his $30.5 million salary means the Lakers basically have to get to that number in order to make a viable deal. That's a lot of money and it means sending out 3-4 rotation players (and at least two of the Dennis/KCP/Trez trio — and potentially all 3).
Which brings me to the other point. The Lakers are very injured right now and are down several rotation players. Any trade for Lowry (or a high priced player in general) today would severely limit their depth for at least the next two games (Thursday and Friday) and potentially 3 (through Sunday). While I'm sure the Lakers would be willing to take a short term hit to their depth for a long term talent upgrade, when you begin to trade 2 or 3 players for 1 or any configuration where they send out more players than they take back, things get tricky.
The other complicating factor here is that the Lakers roster remains one with 5 types of players:
LeBron and AD are the superstars who are not going anywhere.
Dennis, Marc, and Trez are key rotation pieces/high level contributors. Dennis and Trez, specifically, could have a future with the team beyond this year.
Kuz, KCP, Keef, and Caruso are core pieces from last year's championship team and would be difficult to trade from the standpoint of "we trust these guys to play at a high level in a deep playoff run". That type of player has a higher value to them internally then they're likely to have on the trade market. 1

Additionally, Kuz has what's called a poison pill contract because he just signed an extension that gives him a different salary value for the Lakers sending him out than for the team taking him in, which makes him nearly impossible to trade. And Caruso is a pending free agent who the team reportedly wants to keep into the future.

THT is a unique case all his own. He's the young player everyone wants, including the Lakers. Reports say that while he's not untouchable, the Lakers see him as a long term piece and are unlikely to trade him.
The rest of the team are low salaried guys no one is likely to want, don't have much value in a trade, or the Lakers would just as well keep either because of their play or because or, again, because their salary is so low it doesn't make sense to trade them. This includes Wes and McKinnie.
So, how do you construct a deal with all of these factors? It's just hard. Not impossible, but hard. It's one of the reasons I anticipate the Lakers eyeing the buyout market much more diligently than they are the trade market. Don't get me wrong, they're surely working the phones and if a good deal that works for them can be made — particularly for a wing shooter — I think they'll work to make something happen. But when you consider all the factors at play, I think they stand pat.
Now, the flip side of all this is that when thinking about trades, the Lakers cannot just look at this season. There have been reports, for example, that in order to keep THT and Caruso (and, potentially, when accounting for Dennis' next contract if they extend or retain him), they may look to unload some salary now. That could point to a KCP deal or a Trez trade (bracing for the possibility he picked up his player option). This aligns with reports that the Lakers have taken and/or made trade calls on both players.
But, again, threading the needle of accomplishing the goals of maintaining a championship level roster this season while also freeing up some money down the line is difficult. I wouldn't put it past Pelinka to have deals in mind that could accomplish these goals, but making trades means the other team has to see the value too. For example, while *I* might make a swap of KCP for Norm Powell (who is a free agent this summer and could be seen as an upgrade this year, thus accomplishing goals from both a talent and future cap standpoint), I don't see why Toronto would make that deal so….yeah.
So, while we can brace for a potential deal, I just don't see it. Maybe I'll be wrong, it wouldn't be the first time. But, as the clock ticks down, I think we'll see the Lakers focus shift to who gets bought out and what roles they can entice those guys with to draw them to LA for a potential long playoff run.