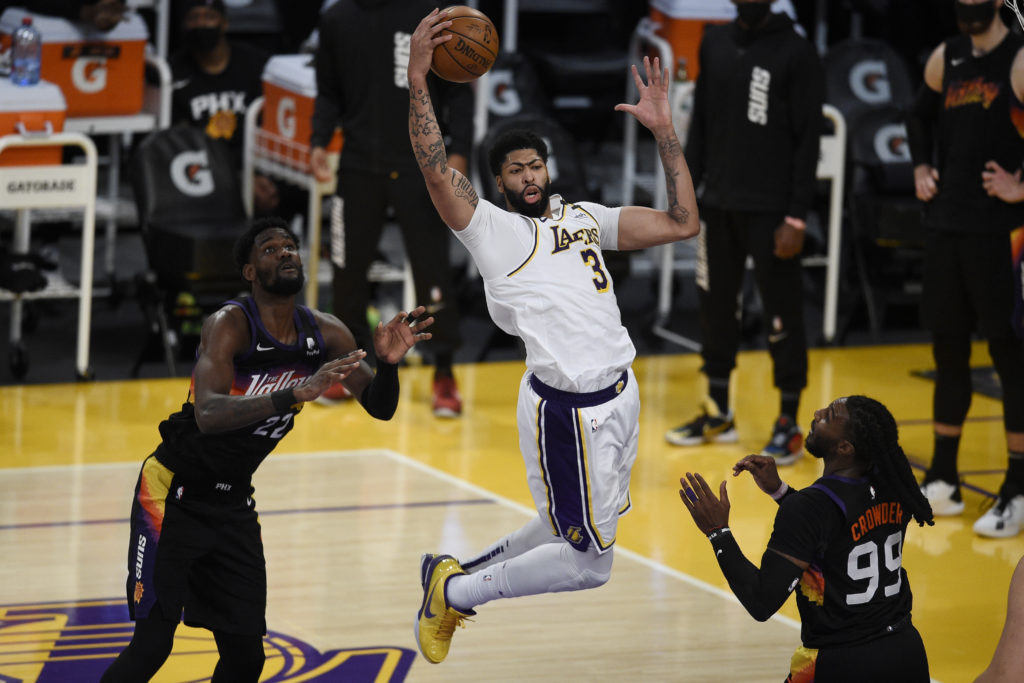 The long, winding road of the regular season is over. The Lakers finally clinched their playoff spot, needing a LeBron James 34-footer with the shot clock nearly expired to dispatch of the Warriors in the play-in game. Their reward is the 7th seed and a date with the Phoenix Suns and their dynamic backcourt of Chris Paul and Devin Booker.
There's things that do not work in the Lakers favor here that we should get out of the way now. First, they do not have home court advantage (and won't for the rest of the playoffs, however far they advance). The Suns are a very good home team (27-9 in the regular season) and will have a rabid crowd in their first return to the post season in nearly a decade. Second, the Suns ranked 6th in both Offensive and Defensive Efficiency for the season, an elite profile and one that typically translates to being a real title contender.
The Suns, then, are an excellent team. Full stop. It's fine to think the Lakers will win this series — after all, when healthy, they're an excellent team too. But, the Suns deserve a massive amount of respect and, in some ways, should incite real worry (and if not that far, an appropriate fear).
That begins offensively. As noted above, the Suns finished 6th on offense during the regular season, but since April 1st they actually boast the #1 rated O at 119.1 points per 100 possessions. That's an absolutely scary number and one that cannot be dismissed, even against the Lakers and their #1 rated defense. The Suns offense isn't super complicated, but their formula is tried and true. They almost always play with no fewer than 4 floor spacers on the floor and sometimes play 5. They have really good spacing principles and have enough versatility with their screeners to have them roll for either direct baskets on the dive or to establish deep post position.
This alone would be enough to be a very good offense, but the specific players who fill the roles are what really make it hum. We all know how good Chris Paul is, but it's worth repeating here. He's a wonderful shooter, particularly from the mid-range. He's a pick and roll master and is still good enough against switches to get to his spots around the elbow area to get his jumper off cleanly. Paul's ability to still manufacture good shots for himself and teammates out of the action translates to easy shots for Ayton on the roll, and open 3's for his shooters when they collapse to protect the paint. And when nothing develops, he's patient and smart enough to back things back out and go at it again until something does.
And then, of course, there's Devin Booker. There's few shot makers in the league better than Booker. It's not that he's the best shooter, but he's someone who can get to his spots and has enough size and strength to simply elevate and get his shot up and over the top of most defenders. He's also very good at moving off the ball, getting into screen actions of all varieties in order to get a clean catch with enough of an advantage to flow into spots where he can simply shoot or use his dribble to attack the rim and finish there. He can make shots from anywhere on the floor and that scoring versatility makes it nearly impossible to play him in anyway but straight up, making his specific attack even that much more potent.
Add in the aforementioned Ayton — who can pick and pop, pick and roll, or create his own shot out of the mid and low post, Mikail Bridges (a really good corner 3 point shooter who has enough off the dribble ability to attack a closeout and hit the mid-range jumper), Cam Johnson (stretch 4), Saric, Crowder, Cam Payne, and Kaminsky, and the Suns are deep with quality role players who can all hit shots and keep the ball moving enough to keep the defense off balance. Again, there's a reason this team is so good on offense.
The Lakers, however, are equipped to deal with a lot of what the Suns do well offensively, so long as they're disciplined and focused. The Lakers group of guards are about as good a group as you can have to slow the Suns backcourt. KCP is a great lock and trail defender who can chase Booker all over the floor. Dennis is good at navigating screens, particularly at the point of attack, while his quickness allows him to recover and his length allows him to contest shots fairly well. Caruso is, well, simply one of the best defensive guards in the league. Great on the ball and instinctive and smart off it. And Wes Matthews is strong and aggressive at the point of attack, while offering relentless work as a chaser off the ball. These four players, will be tasked with hounding Paul and Booker at all times and, honestly, I trust them to do a good enough job here to give the Suns some issues.
Where the Lakers can effectively win the series, however, is in the defense of their front court guys. Anthony Davis is the best defensive big in the league at the point of attack — either in the P&R or on switches. Drummond, too, can be effective when showing high and then recovering to the paint to still help at the rim. Add in LeBron, who can be devastating in any defensive situation, and Kuz who is another rangy forward who can contain on the ball while being very good at rotating to shooters off it, and the Lakers project to have enough on that end of the floor to make the Suns life harder. Not stop them outright, but force a few more misses, a few more turnovers, and more possessions that go deeper into the clock than they'd like.
Where things get trickier for the Suns is on the other end of the court. Just as the Suns offense took off in the final two months of the season, their defense started to show some cracks. Phoenix ranked 23rd in Defensive Rating since April 1st, offering less resistance at the rim and, overall, just not being as sharp as they need to be. And where things can get even harder for the Suns is in the fact that they simply do not have a lot of viable size behind Ayton, which could translate to a lot of interior success from LeBron, AD, Dennis, Trez, Drummond, and even Kuzma.
Whenever Ayton goes out of the game, one has to wonder how the Suns are going to protect the paint. Is Kaminsky or Saric going to slow down Bron on drives? AD in the post or when diving in the P&R? Dennis in isolation or when turning the corner in the P&R. They'll surely try to pack the paint to dissuade drives and dives from the outset, but the Lakers have proven persistent in working their actions and being aggressive towards the basket is a fundamental principle of their offensive attack. The Suns will surely scheme and try to junk things up to keep the Lakers off balance (maybe run some zone, maybe trap the post or the ball handler in P&R's), but the playoffs are when counters to these actions can be better deployed with opponent specific gameplans that reflect seeing the same team night after night.
And, in the end, that's where the Lakers can really have a big advantage. Yes, Chris Paul is a genius and Monty Williams is an excellent coach, but under Vogel and with LeBron, the Lakers are likely to have an edge (even if only slightly) in areas that involve preparation. And when you add an advantage in talent (particularly at the top with Bron/AD), it's very possible that slight edge can translate to real advantages night to night.
Of course, no one should say the Suns are destined to fail here. But, they have some fundamental issues to overcome here. Namely, their lack of frontcourt size and versatility is the exact type of issue you do not want to have against a team that employs LeBron and Davis. Those guys, in the playoffs, simply raise their games to levels that are hard to match unless you have similarly talented players. Sure, on any given night, things can go your way. But over the course of a couple of weeks, can you do that 4 times and win? You shouldn't bet against a team as good as the Suns to figure it out, it's just that the climb is very steep. You need a certain amount of belief, fortitude, and experience.
That last point shouldn't go undiscussed either. The Suns are not a very experienced playoff team. Paul, of course, has gone through the fire over and over again. But for the rest of this roster, this will be their first taste of what it means to play at this level. Will they need time to adjust? Will they make one or two more defensive mistakes than they normally would under regular circumstances? Miss one or two more shots they'd typically knock down? Play a half second behind than is required in the post season? These things can be the difference between winning and losing. And when each game has as much value as they do in a series, that can be all that matters.
Again, I don't want to oversell the Lakers advantages while underselling the issues the Suns can impart going the other way. There's a reason they're the #2 seed in the conference and have the statistical profile they do. That said, if the Lakers can stay healthy, they looks poised to offer some problems that are difficult to overcome considering the makeup of the Suns roster. There may not be a matchup in the conference that projects to give Phoenix the types of problems the Lakers do, both in terms of attacking their defense and in having the types of defensive players who can give their offense problems.
It doesn't mean things will go that way, of course. It's why we play the games. To see if the way things look on paper actually go that way on the court. The Suns have enough talent and play with enough poise that dismissing them would be foolish. But, in a series vs. the defending champs who look to be like they could be hitting their stride…this isn't your normal 2/7 matchup.
In the end, I do expect a good series. The Suns will not lie down, they will not quit. I expect close games and some stressful moments. But that's why I love the playoffs. We're about to see two really good teams try to get to 4 wins before the other side can. And I expect it to bring out the best in both sides. I cannot wait until Sunday.