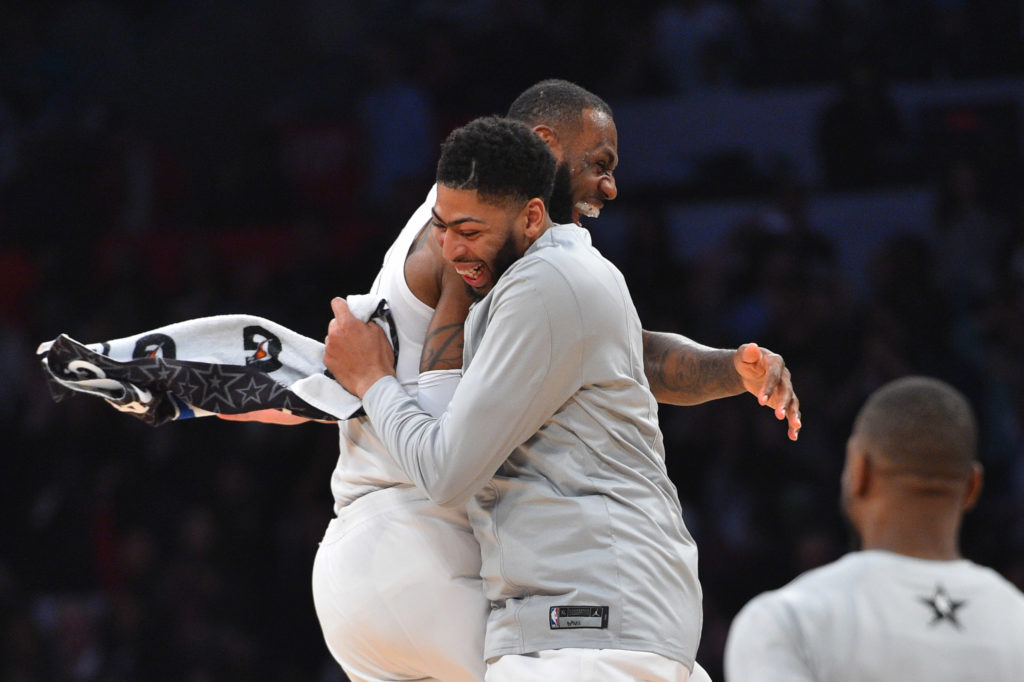 The long and ongoing negotiations between the Lakers and Pelicans have come to an end. The Lakers will acquire Anthony Davis via trade. The cost is extensive per ESPN's Adrian Wojnarowski:
The Lakers paid a steep price to partner Davis with LeBron James: sending Lonzo Ball, Brandon Ingram, Josh Hart and the picks — including the No. 4 overall selection in Thursday's NBA draft — to the Pelicans, sources said. The Lakers were able to hold on to forward Kyle Kuzma in the trade, which cannot be finalized until July 6.
More from Woj:
In addition, the language in the deal concerning the future first-round picks includes the possibility of a pick swap that could make the trade even more advantageous to the Pelicans, league sources said.
In total, then, we are looking at the Lakers top 3 assets in Lonzo, Ingram, and #4 overall pick, Josh Hart, two future 1st round picks, and, potentially, the ability to swap one or more future 1st rounders going out to New Orleans.
That is a lot. And, on the most basic level, this will be hard to accept and could (and will be by many) seen as an overpay. Especially when viewed through the prism of the other teams in the running for Davis not offering up their best assets. So, to see the Lakers give up their best assets, it can be hard to swallow.
That said, another way of looking at this is that the other teams offering their second tier assets means that they don't actually walk away with Davis. And the Lakers do. Anthony Davis. An All-NBA level player, All-Defensive team level player, and a guy who is in the conversation for one of the 5 (or so) best players in the league.
That's who the Lakers just traded for. So, while I understand lamenting what the Lakers lose in this, focusing on what they gain is, really, more important. Davis will not be 27 until after next season's all-star break. The bulk of his prime is ahead of him. He is a game changing talent on both sides of the ball and can be your anchor as a scoring threat or as an all-court defender who can guard on the perimeter and protect the rim. And he's joining a team that already has LeBron James.
That last part cannot be ignored. In a league that will always be dependent on superstars to compete at the highest level, the Lakers just got a 2nd one to partner with a guy who, before missing the playoffs this season, was considered the league's best (or 2nd best) player. Whatever hits LeBron's reputation has taken, it's not fallen to the point where anyone can credibly count him out from being one of the few difference makers that can turn a playoff team into a championship level one.

This is especially true now that the championship has moved east and the top of the west has been disrupted by injury (Warriors) and uncertainty (Rockets). The Lakers have moved their chips to the middle of the table and grabbed a talent that they hope can be a foundational piece for a championship level team, not only next season but beyond.
Beyond….yes, that part. Davis will enter free agency in 2020. This has been well known. So is the part that he favors the Lakers as a long term destination and one of the few locations he'd consider re-signing with long term should he end up there. That will be put to the test now. I'm not going to riff on this too much here now, but this will need to be true for the Lakers' sake. They gave up a haul and it would be disastrous if it was for a rental.
If we're going to look forward, though, to the short term is where our gaze should go. The Lakers will have cap space this summer — anywhere from roughly $23 million up to $32.5 million. They can get to that latter number by waiting until July 30th to execute this trade with the Pelicans, a point in time that would allow them to aggregate the salary from the #4 overall pick and use it as ballast in the trade to make the trade work financially as a team that is operating over the salary cap. By operating this way, the Lakers, then would be able to open (roughly) a max salary cap slot to chase players who have 7-9 years of experience in the league.
The list of players who fit that description include Kawhi Leonard, Kyrie Irving, Jimmy Butler, and Kemba Walker. Those targets, and likely in that order, should be the Lakers target base. We can get into the "chase a 3rd max player" vs. "chase high level role players" argument another day, but there are cases to be made on both sides. But in a world where the Lakers have made it known they're chasing the big fish, they'll certainly go after these names first.
So, can the Lakers land another star? This is the (thirty) million dollar question. I won't go so far as to say their off-season's success depends on it, but if the team can add another max level player their odds of being a short and long term contender go up a great deal.
And, really, that brings us back to square one. The Lakers have traded good players with high level potential for high level potential already actualized. That one piece, Anthony Davis, has altered the direction of this team for next season and, should he re-sign next summer, for another half-decade after that. He moves them from a LeBron + young players model to a LeBron + another superstar (and, maybe a 3rd star too) one. That latter model, even in the face of the Raptors winning the title this year, is proven to vault you into contention to bring home the Larry O'Brien trophy.
And for an organization that has built its legacy on doing exactly that, this was a deal worth making.