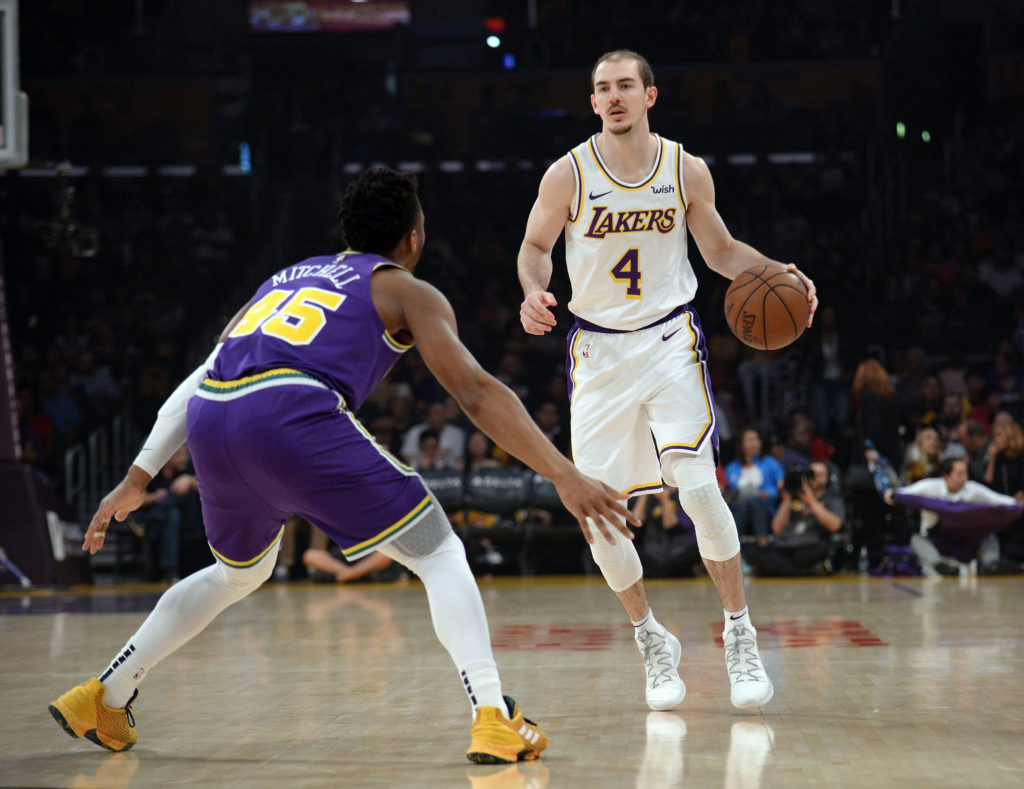 Coming out of Texas A&M as an undrafted free agent, Alex Caruso has spent most of his NBA career in the G-League. A season with the Oklahoma City minor league team became two seasons, under a 2-way contract, with the South Bay Lakers where he shuffled between the parent team and the SBL. If Caruso were a baseball player, at this point in his career most casual observers would describe him as a AAAA player — someone who was too good for the minors, but not quite a true major league guy.
He might also be the Lakers' best option at point guard in a season that is already being billed as the one where they're supposed to take the major step forward from lottery team to legitimate conference finals contender (and maybe even farther than that).
This circumstance reflects the limitations of team building in a unique free agency period that came in the wake of a major trade while simultaneously being the trigger for a handful of jokes from those who like to make them at the Lakers expense. Caruso, with his balding head and….let's just say it bluntly….whiteness, is typically described as someone who looks as if he'd be more likely to do your taxes than play meaningful NBA minutes at point guard.
Caruso, though, can play at this level. I believe this fully. The Lakers, after handing him a 2-year contract in free agency this summer, surely believe it too. And while the team hedged their bets by also signing Quinn Cook and bringing back Rajon Rondo at the same position Caruso plays, I'd argue it's Caruso who brings the most to the table and, ultimately, should end up getting the bulk of the timeshare minutes at point guard this season.

For a player with Caruso's pedigree and experience at the NBA level, coming to that conclusion probably feels like a stretch. But, when you dig into Caruso's skill set, stats, and some of the advanced metrics, it's actually not a hard argument to get behind.
We should start on the defensive side of the ball because that's where I believe Caruso brings the most value to this team. ESPN's Defensive Real Plus-Minus (DRPM) can be a noisy stat (like many defensive metrics), but is a tool meant to "estimate a player's on-court impact on team defensive performance, measured in points allowed per 100 defensive possessions." Last season, Caruso posted a strong +0.77 in this metric as a shooting guard, which ranked him 11th in the NBA at that position. If you take that number and apply it to point guards, Caruso would rank 17th. 1As a reference point, Lonzo Ball (who I considered one of the best defensive point guards in the league last year) ranked 8th at point guard with a +1.29. Rondo was 70th in the NBA at point guard, posting a -1.39. Cook was 100th at -3.49.
If DRPM isn't your cup of tea, the on/off-court numbers for Caruso tell a similar story. In 562 minutes Caruso played in 2017-18, the Lakers were 4.6 points per 100 possessions better defensively when he was on the floor (101.5 Defensive Rating) vs. when he sat (106.1 Defensive Rating). In the 531 minutes Caruso played during the 2018-19 season, the numbers were even better — the Lakers were 6.5 points per 100 possessions better when he was on the floor (101.7 Defensive Rating) vs. when he was on the bench (108.2 Defensive Rating). 2And if you're wondering how the Lakers performed when Caruso and LeBron shared the floor last season, the team had a Defensive Rating of 102.1 in the 147 minutes they shared the floor.
Offensively, the results are not as strong, though I am cautiously optimistic Caruso can at least be a neutral presence on that end of the floor. 3Last season the Lakers had the same Offensive Rating of 105.2 when Caruso was on the floor vs. when he sat. Caruso has lead guard feel, but a broad enough basketball IQ to serve as an off-ball worker. This specific combination matters due to the role Caruso would be playing in lineups that feature both LeBron and Anthony Davis.
In any lineup with James and Davis, the point guard will likely cede some, but not all, of the ball handling and offensive initiation responsibilities. Caruso's malleability works best here — especially when contrasted to Rajon Rondo and Quinn Cook who operate on opposite ends of the ball dominant setup man and off-ball spot-up shooter spectrum.
Caruso can organize the offense and operate in pick and rolls to start a possession, but can also work as secondary creator and off-ball worker who is comfortable taking spot up shots or slashing to the paint via smart cuts. Caruso's ability to operate in this middle ground; to take a load off LeBron by capably setting up the team's sets on some possessions and then work as a viable off-ball threat when LeBron (and Davis) function in the hub of the offense will be an important part of the team's success this upcoming year.
I highlighted the word viable up there because, well, a large portion of that viability will come down to Caruso being able to hit the 3-ball with enough consistency to make defenses pay. The data on Caruso's shooting is mixed and only comes in small samples. Last season, while with the parent club, Caruso shot 48% from distance, but on only 50 attempts. The season before that, though, he only hit 30.2% on his 43 attempts. These are huge differences and don't really give us much insight into what kind of shooter Caruso is. Over the course of his career, both in the G-League and in NBA games, Caruso has hit 36.6% of his 3's (170-464) — a respectable number on a larger sample. Does that larger sample encourage? I guess that depends on whether you're optimistic or not. 4As a reference point, last season Jamal Murray shot 36.7% from distance (152-414). Would you consider Murray a good shooter?
Digging into these numbers a little more, there's one thing that does encourage me. On wide open jumpers,5The NBA defines wide open as shots where a defender is more than 6 feet away from youCaruso hit 53.1% of his 3's last season and 43.3% of his 3's in the 2017-18 season. There's a competency there which, I think, matters and shows a comfort level with taking spot up jumpers against defenses who cannot/did not rotate — something the Lakers hope to see a lot of this year when LeBron and Davis draw most of the defense's attention.
The next step, of course, is to be an above league-average shooter when those margins shrink. Can he hit 38% of his 3's when a defender is within 4-6 feet or 2-4 feet? In pressure situations or when facing better defenses — like what will happen in the playoffs — he will be tested and we'll only know how successful he can be when given the chance to prove it.
That chance is really all I'm hoping he gets. Rondo, via his time with the Celtics, and Cook, through his time with the Warriors, got those chances as young players. And their respective reputations have been bolstered by having success in those moments. I simply hope Caruso gets the same opportunity those players once did. Because, if he does, I think he'll show he has the right mix of skill, competitiveness, and moxie to be a reliable piece and the answer to these Lakers' questions at point guard.
I think Nick Mazzella, GM of the South Bay Lakers, said it best to Mike Trudell of Lakers.com:
The better the talent around Alex, the more valuable he becomes. He can create offense with the ball in his hands, and he can be effective off ball with cuts and screens. And his spot up game has improved tremendously. We got to see glimpses of his NBA impact over the past two years and I'm excited we'll get to see it now on a more consistent basis.