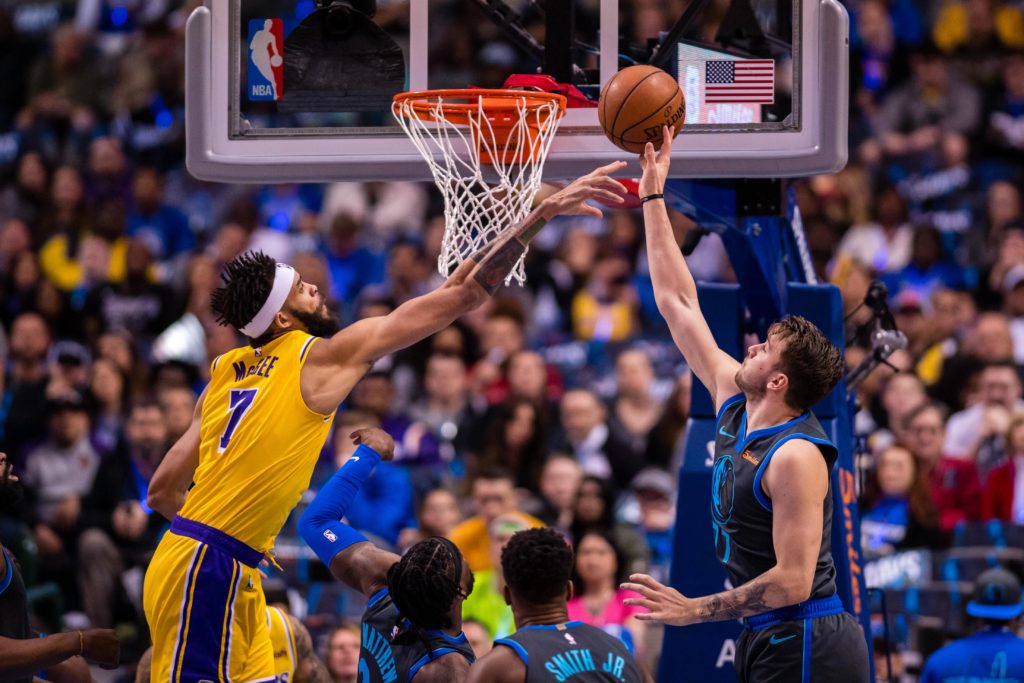 Records: Lakers 3-1, Mavericks 3-1
Offensive ratings: Lakers 107.5 (10th), Mavericks 112.2 (4th)
Defensive ratings: Lakers 96.8 (4th), Mavericks 108.6 (21st)
Projected Starting Lineups: Lakers: Avery Bradley, Danny Green, LeBron James, Anthony Davis, JaVale McGee
Mavericks: Luka Doncic, Seth Curry, Dorian Finney-Smith, Kristaps Porzingis, Dwight Powell
Injuries: Lakers: Rajon Rondo (out); Mavericks: none
The Lakers coming in: After an opening night loss the Lakers have won 3 straight, which is great. They've also played all four games at the STAPLES Center, which is as ideal as it gets. This team ventures out on the road for the first time this season, with their first stop in Dallas vs. the Mavs.
Before we get to them, though, it's good to reflect on what the Lakers are showing to be their profile as a team in the season's early stages. They're currently 4th in Defensive Rating and 9th in Offensive Rating. Their defense has been fueled by smart guard play and bruising, active big men defending the paint. The Lakers lead the league in blocks per game and while they're 9th in shots allowed inside 5 feet, they're 3rd in field goal percentage allowed on those shots (53%). The big men deserve a lot of credit for this, of course, but do not discount the play of the guards who are doing a good job of chasing guards and funneling them into the paint where their bigs are waiting to assist.
Offensively, the Lakers aren't doing anything spectacularly and need to still work a few things out. The early returns on their starting lineup are not strong, at all. This team is struggling to find the right spacing and floor balance when JaVale and AD are on the floor together and the combination of having Bradley out there is only adding to the spacing deficiencies.1Bradley is shooting well enough, but defenses are not respecting his shot and it's leading to a more congested paint in general.
When Bradley and JaVale are replaced by KCP and Dwight, those two are doing a better job of positioning themselves in spots on the floor where they're either occupying defenders or taking advantage of the extra attention LeBron and AD are receiving. KCP hasn't been lighting the world on fire as a shooter, but he's moving well off the ball and moving well into the seams of the defense. And while Dwight isn't such a different player from JaVale, he's doing a much better job of hiding in the dunker's spot, slipping into passing windows, and muscling into/holding position in the paint for offensive rebounding chances. These are little things that matter and are reflected in both players on/off stats.
Lastly, on the injury front, Kyle Kuzma is ready to go — though he will be on a 15-20 minute restriction. I won't get into it too much here, but Kuzma will help the Lakers in a variety of ways as he gets oriented to the team and back up to game speed. For more of my thoughts on that, read this.

The Mavericks coming in: There were differing opinions on the Mavs heading into this season, but some folks saw them as a playoff team and early returns are proving those predictions correct. The Mavs are 3-1 coming in and while their strength of schedule hasn't been impressive2Dallas has played the Wizards, Pelicans, Blazers (their one loss), and the Nuggets. you could say the same thing about the Lakers schedule so let's not cast stones.
Beyond the success, though, what's clear is that this Mavs roster and the way the pieces complement each other just make sense. Obviously we start with Luka and Porzingis here, not just because they're the team's best players but because their pairing really is simpatico. Luka, the ball handling power wing who can score and pass at an incredible level considering his age is just the perfect match for Porzingis' ability to hit spot up jumpers, play in the pick and roll as both a roll man and a pop option for jumpers, and give Luka a rest by isolating against shorter or slower defenders.
Flanking these two are a wonderful mix of shooting, ball handling, and hard working role players who can take ownership of a handful of possessions every game, but do most of their best work simply filling in the gaps around the Mavs emerging stars. Be it Delon Wright or Jalen Brunson handling the ball or shooting spot up jumpers, Seth Curry's ability to come off picks or sit weak side and bury 3's, Dwight Powell and Maxi Kleber working the interior as lob threats/finishers, or the trio of Finney-Smith, Justin Jackson, or Tim Hardaway Jr. working the wings in various and diverging ways, there's just a lot of good, NBA level rotation players on this team that need to be accounted for.
In other words, I do not think the Mavs record is a fluke.
Keys to the game: A lot will be made of the LeBron/AD vs. Luka/Porzingis matchups and for good reason. What will interest me more, however, is the schematic deployment of these players and the adjustments that may result after the early feeling-out period I expect.
The first thing I'll be watching for is how the Lakers defend the various versions of the P&R the Mavs will run. The Lakers have been a drop coverage team all season and I do not expect that to change tonight. However, the Mavs have the ability to run one of the more deadly pick and pops in the league, with Luka turning the corner and Porzingis hanging back after setting the screen ready to bomb a 3. The kryptonite for drop coverage is this pick and pop play, so the Lakers will need to show some tweaks to their standard coverage — unless they're willing to just cede jumpers to Porzingis. Which, you know, they might!
Porzingis is only shooting 33% on 3's this season and only 31% on catch-and-shoot 3's. Lakers opponents, meanwhile, have only shot 25.5% on above the break 3's this season — a number that is last in the league. The Lakers may very well feel like they can keep Luka in front of them by playing their normal coverage and force Porzingis to beat them by making a shot he's not hit at a high rate this season. Whether that's a mistake remains to be seen, but it's something I'll be watching closely.
Offensively, the Lakers have a size advantage against the Mavs even though they have the 7'3″ Porzingis and a more traditional big man starting next to him. This can show up in a variety of areas, but one of the most important could be on the backboards. The Mavs rank 23rd in defensive rebound percentage while the Lakers are 9th in offensive rebounding percentage. I expect AD, Dwight, and JaVale to go to the offensive glass often and make the Mavs finish defensive possessions off by securing rebounds. If they can't, the Lakers are poised to earn the extra possessions that would give them the FGA edge that can lead to wins when facing a potent offense like Dallas'.
Getting back to defense, I'm very interested to see who gets the first crack on defending Luka. Danny Green has the size needed, but may not have enough lateral quickness to stay in front at the point of attack against Luka's start and stop based shiftiness. Avery Bradley has the strength and quickness at the point of attack, but not the size – particularly when contesting Luka's stepback jumper. I'd probably start with Bradley on Luka, but Vogel has an interesting choice here.
On the flip side, the Mavs have a similar question in how they'll defend LeBron. Finney-Smith will likely get the first crack, but it remains to be seen if he's actually the best option. I expect Justin Jackson and maybe even Kleber or Powell to also get some chances. The Mavs don't quite have the combo forward type who has both quickness and strength to battle LeBron, so I expect them to come at him in waves to see if that can slow him down.
Speaking of slowing down, watch the pace in this game. Both these teams are in the bottom half of the league in how quickly they play so it would not surprise me if this game is around the 100 possession mark. That said, with Kuzma returning and the potential to play Davis at C against mobile bigs like Porzingis and Powell, they may ramp it up some to try to get easier baskets in transition. If they can generate enough easy baskets while not suffering defensively with the increased tempo, the Lakers would be well on their way to getting a W.
Where you can watch: 6:30pm start time on Spectrum SportsNet and ESPN.
*All stats via stats.nba.com