While the scrimmages were fun (hello, Dion Waiters!), those games did not actually count. They were good cardio and a nice reintroduction of the players in the bubble to NBA basketball, but beyond that all anyone was really hoping for was to come out of them as healthy as they could be. The Lakers did pretty well on that front, Anthony Davis' poked eye (and subsequent goggles) not withstanding.
The good news is that Anthony Davis expects to play in Thursday's restart opener. As will any and every other Laker who Frank Vogel calls off his socially distanced bench when the team faces the Clippers on TNT. I'll get to the details of that game later, though.
No, here I'd prefer to look big picture rather than dive into the details of a specific opponent. The Lakers play 8 of these "seeding" games before the playoffs. The have the word seeding in quotations, because I do not expect the Lakers seed to be impacted at all. They're 5.5 games up on the 2nd place Clippers and, though they face each other on Thursday, the Lakers would need to only go 3-5 while the Clippers go 8-0 for the boys in the FB&G to hold onto the top spot.
So, I think their seed is safe.
Which brings me back to my main point. These 8 games are going to tell me a different story. Mainly, they'll be the prelude for what is sure to be one of the most unique championship chases in league history. The Lakers are as well positioned to win the title as anyone. They have the talent, they have the coaching, and they have the type of chemistry that can propel them forward in an environment that will force teams to be closer than they've ever been–figuratively and literally–on their way to hoisting the Larry O'Brien trophy.
And that pursuit begins, in earnest, now. So, before they actually throw that first jump ball up in the air to get the whole thing going, here are 5 things that interest me about this Lakers team and the goal they have their sights on.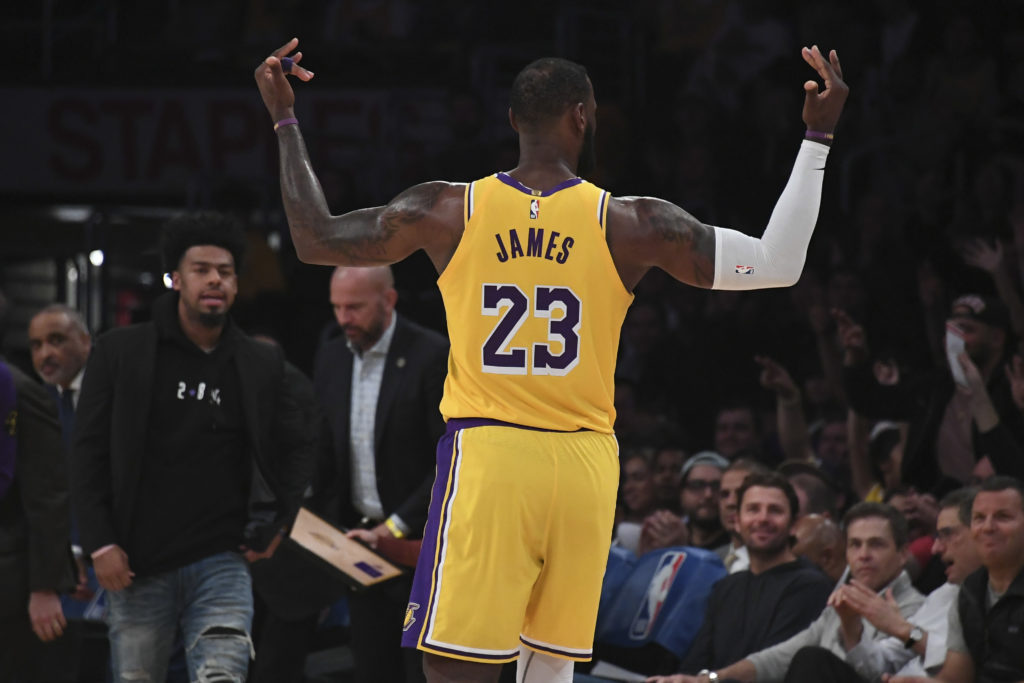 1. Like nearly everything about this team, let's start with LeBron. I could rattle off a bunch of superlatives about his game and his standing in the league here, but I'll save you that. Instead, I'll simply say that it's been years since I've seen LeBron as in touch with his team and showing the type of committed leadership and investment day to day that LeBron is showing now.
Maybe it's the bubble. Or maybe it's the understanding of the real chance he has to win another title. After a season from hell last year, the acquisition of Anthony Davis has brought an opportunity that LeBron has tasted before and for sure wants to again. There are few players in the league today who understand the stakes at play here, but I'd argue none of them know them more than LeBron. A trip to the Finals this year would be the 10th in his career and a win would give him his 4th championship.
Navigating this particular team in this specific season might be the most difficult leadership job LeBron has had in his prolific career and he's handled it better than anyone could expect. From the trip to China to Kobe's tragic death to a global pandemic that shut down the season to this restart in Orlando's bubble, LeBron has been the front man not only for his teammates, but for the entire organization. And now he's trying to take them back to the Finals for the first time in a decade and into the playoffs after a drought unseen by this franchise.
I am very interested in seeing how much capacity he has to take on more. As the stakes rise, the job will only get harder. The west is a bloodbath and even if he's able to get by that gauntlet (and a likely matchup withe Clippers), the reigning MVP and the team with the league's best record will likely be waiting for him. There's no player in Orlando right now that I'd want more right than LeBron. Not even Kawhi or Giannis, whose greatness as players is unquestioned.
Can the King do it again? I cannot wait to find out, but I think he can.
2. Anthony Davis is one of the league's most talented players who will very likely be named the first team of the All-NBA and All-Defense teams. He's a proven superstar whose numbers, though in a somewhat limited sample, have always gotten better in the post season. Davis is no Robin, he's a Batman all on his own.
What I'm interested in, then, is seeing how far he can push himself; how far he can leverage his talent. Can he raise his game to a championship level? He'll need to if the Lakers are going to be the last team standing.
Way back in 2000 I remember a young guard named Kobe Bryant take over a crucial game 4 of the NBA Finals after Shaquille O'Neal, the MVP of league had fouled out. Kobe had been an All-Star and an All-NBA player. He was, clearly, one of the best players in the league. But it was in that game, coming off a sprained ankle that had him miss a game, where he hit dagger shots and told everyone to calm down because he had this.
Twenty years later, AD is the young(ish) superstar who everyone knows is capable and is the teammate of one of the few players in the history of the game who can rival the dominance of prime Shaq. LeBron is older, of course, but his reputation and production remain elite. Davis will, in the remainder of this season, surely get his chance to do exactly what Kobe did 20 years ago. He'll get his chance to make the leap from superstar everyone knows to a champion that everyone fears.
3. Alex Caruso isn't the team's 3rd best player. Hell, he might not even be the 6th or 7th best player. He is, though, one of the most important ones. With Avery Bradley not in Orlando and Rajon Rondo nursing a broken thumb, Caruso's role is likely to expand into added responsibility handling the ball while still being asked to defend at a high level while also making all of the little plays that add up over the course of the game to help secure wins.
Caruso's chemistry with LeBron and the mind-meld he often has with him will be even more important in an environment where mistakes are feasted on and weaknesses are sought out and exposed possession after possession until you're either out of the game or finding a way to no longer have it be a weakness.
His jumper will be tested. So will his handle. His lack of experience will be something he'll need to overcome. Caruso, though, has gotten to the point he has in the NBA not because of overwhelming talent, but because of confidence in his ability to go out there and simply play the game he's played his entire life. He will play smart, he will play hard, and he'll play with instincts. If the jumper falls and he makes the right reads when he's asked to initiate offense, particularly in the P&R, watch out.
4. Is there enough defense? I'm honestly not sure. Avery Bradley isn't the Lakers best defender overall; I don't even think he's the team's best perimeter defender. So, I do not want to blow up the idea that simply losing him is some huge blow to the Lakers.
What Bradley did do well, however, was pressure the point of attack and do it with a strength and stubbornness that could wear his opponent down. And in a conference where the Lakers could very well see any combination of Ja Morant, Jamal Murray, Mike Conley, Dame Lillard, James Harden, or Luka Doncic, that point of attack defense will be missed.
Beyond that, though, the Lakers will now have to lean on lineups that have Dion Waiters and Kyle Kuzma and Markief Morris (and, potentially, JR Smith) playing prominent roles. Can groupings that feature these players defend at a high enough level? Can KCP and JaVale (both guys who have been up and down over their careers, but mostly positives defensively this year) hold up? These are real questions and the answers can make or break a major playoff game and/or turn a series.
I trust Caruso and Danny Green and LeBron and AD and Dwight to play top level defense in their minutes. The rest of the team may very well need to score at a high enough rate to counter a defense that is very likely to slip some now that Bradley is not around. Don't get me wrong, those guys are more than capable of doing just that on offense. But, at some point in a big playoff game, you just need to get a stop. And if that moment comes with some of team's more questionable defenders on the floor, things could get tricky.
5. Frank Vogel isn't going to win coach of the year. That's what happens when you have LeBron and AD on your team.1Does it matter that some people wondered if the Lakers would even be a top 4 seed and whether Jason Kidd would take his job before the All-Star break, but instead Vogel has them as the #1 seed in the west and with the league's 2nd best record? It should matter. But I digress. Vogel, though, has proven himself a wonderful coach this season, mostly on his ability to construct offensive and defensive schemes that put his players in a position to succeed and then pulling the right levers with his rotation to ensure the right players were on the floor at the right time to get those wins.

In Orlando, Vogel's X's and O's acumen and his ability to make those right rotation choices will be tested like never before. Vogel has a clear 10 man rotation in front of him if he wants it. LeBron, KCP, Danny Green, AD, JaVale, Dwight, Kuz, Caruso, Morris, and Waiters is a deep and talented group that has high end talent at the top and stable of role players who offer any skill you'd want in the aggregate.
But none of those role players offers a complete game without some holes that can be exposed. It will be on him, then, to choose correctly when grouping these guys together and determining how long any of them plays on any given night. He will likely need to change things game to game based on who has it going and for how long they do. He'll need to trust the data, but also will need to trust what his instincts tell him. He'll need to make adjustments and keep everyone ready and engaged and buying in with the plan. LeBron and AD can and will help with that last part. As will the players' own approach and understanding of what's at stake.
But, in the end, it will be Vogel pulling the strings. One thing he will surely be is prepared. He'll know the opponents, their tendencies, and how to counter them. He's a really good coach. I trust him. But he will be tested and some of the games he's going to coach over the next few months will likely be the most important of his career.