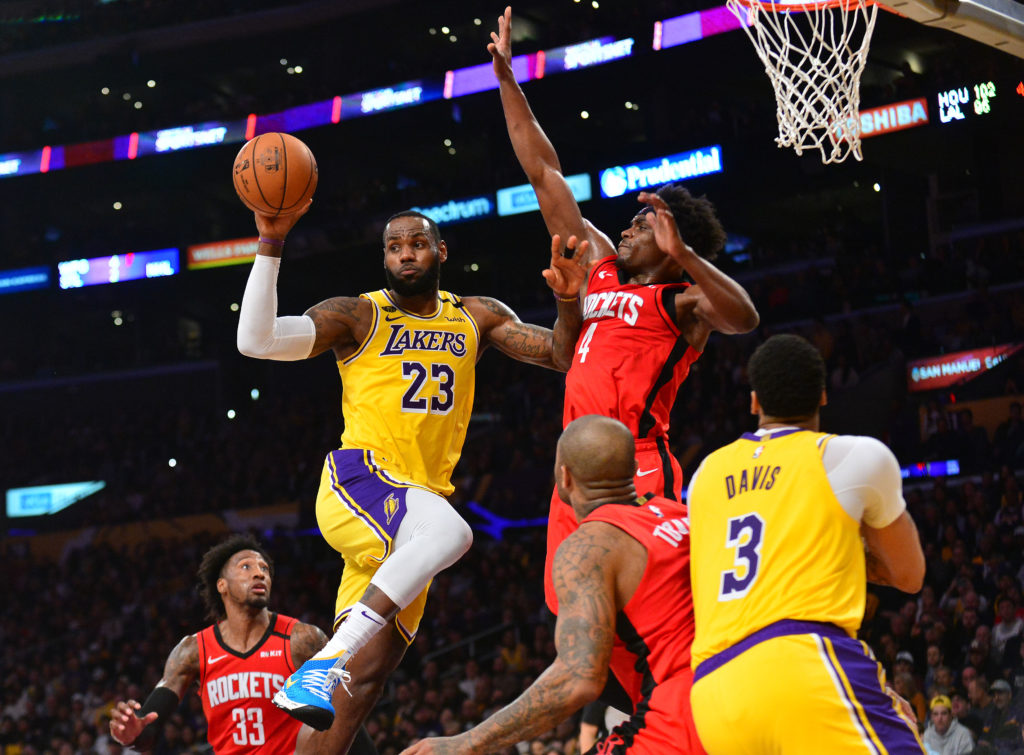 Lakers vs. Rockets game 1 is finally here. It's been nearly a week since the Lakers have played a game, and while Houston might be a bit fatigued coming off a longer-than-expected 7 game series vs. OKC, I expect both teams to play hard tonight and for there to be a good energy in the series opener. Now, whether Houston has the ability to maintain that energy for a full game remains to be seen, so watch intently for how things go as things transition to the 4th quarter, particularly if the game is close.
In saying that, my thoughts on this game mirror many of the thoughts I laid out in my series preview. So, if you haven't checked that out yet, please do. I think there are other keys to getting a win tonight, which I'll lay out later in this post. For now, then, I wanted to focus on something a bit different…
---
A running joke on twitter among Lakers fans is that this team is being treated like an underdog by national media. It started with the Blazers series and, like Lakers fans can do, it quickly turned into a rallying cry of sorts where photoshops of the old Warriors "We Believe" slogan being tweaked to have the Lakers logo on it started to surface. It's fun and a nice little jab at folks who suddenly want to act as though the #1 seed Lakers who have LeBron and AD aren't naturally favorites in nearly every matchup.
I bring all this up not to talk about national narratives or Lakers fans' ingenuity, though. Instead, I bring up that Warriors team because, living in Oakland for a long time now, I saw that team up close. I was actually at Oracle Arena when they beat the Mavericks in games 3 and 4. I'll never forget that crowd or that experience of watching the Warriors turn that series in their favor by forcing their style of play onto the Mavs and how the Mavs took the bait, ultimately losing their identity as they got deeper and deeper into the series.
Which brings us to the Lakers vs. the Rockets, maintaining your identity, and cost of being too quick to try to matchup with what your opponent is doing in order to try to win.
One of the major themes of this series and, really, in this opening game is how long the Lakers can stick to their identity of playing their two-bigs lineups and the how long they can avoide being seduced into playing the style the Rockets want to goad them into. In the end, maybe the numbers and results will bear out the idea that this Lakers team does need to change. They have the personnel and flexibility to do it, after all, and they've actually played with downsized lineups a lot this season to great success. So, no one would blame them for moving in that direction should the flow of the series determine it's best.
That said, the Lakers have that choice. They're the team with the roster flexibility to change styles. They're the team that can slide Bron and AD up a position, put in Kuz or Caruso (or Morris or Rondo or Waiters among others) for JaVale or Dwight and ride it out with a more perimeter centric team. But they also have the choice to play bigger; to try to leverage their size and strength advantages inside to turn the game into a style that the Rockets do not have the personnel to adapt to.
How successful they are in doing that may just decide the series. Those Mavericks never really tried. They adjusted to what the Warriors were doing very early, went away from their season long identy, and ultimately paid the price by going home at the end of the series.
I'm not sure if the Lakers will face the same fate should they adapt to what the Rockets do, but I do know that one of the first battles in this series will be between the Lakers and their own ability to maintain the approach they've had for the entirety of the season to this point. And losing that battle will almost surely give the Rockets an edge, if nowhere else than psychologically — just as it did for those Warriors.
---
Now, a few more notes that I think will matter for game 1:
A key stat to watch for tonight will be points in the paint vs. points from behind the arc, and which team will be able to "keep it close" in the area they're expected to lose. Said another way, if Russ and Harden are scoring at the rim well enough to keep it close with Bron and AD or if Danny Green, KCP, Kuz, etc can make enough shots to not allow Houston to end up being +24 or +30 from behind the arc, the game evens in ways that give their respective teams a much better chance of winning.
Another stat I'll be watching is FT attempts and, even more specifically, who on Houston is committing fouls. PJ Tucker and Robert Covington are absolutely crucial defensive players for Houston. Without either, their frontcourt depth is severely tested and you're suddenly relying on Jeff Green to do a bunch of heavy lifting as a primary defender on either LeBron or AD. So, watch for how often those two Rockets foul and what types of fouls and how many they commit. Those two cannot avoid cheap ones and they must manage them well over the course of the game.
Another thing to watch is how often the Lakers switch and how easily they surrender to the type of matchup hunting the Rockets try to execute. Harden will try to manipulate defenses both at the point of attack and off the ball when teams switch against him. He's not only going to try to get a weaker defender on him in isolation, but he's going to try to position your best rim protector in the strong side corner so he can attack to that side to force him to help on the ball and give up an open 3 or stay attached to his man and give up a driving angle and an easier shot at the rim. The Lakers need to be aware of these tactics and avoid handing them over through needless switching.
A key indicator of how well the Lakers offense is functioning will be how many lobs they convert in the half court. Either via P&R's or on post-ups that lead to weakside duck-ins by LA's bigs moving from the dunker's spot, if LA is catching and finishing lobs, it's going to indicate that 1). Houston is worried about the point of attack scoring threat and 2). Houston's defense is not crashing down well enough to deter an easy two points. These reads aren't always complicated from the Lakers side, but the execution and timing can be. So, converted lobs also mean this team being in synch offensively and that can spell trouble for the Rockets.
There's more to watch for, but I've already kept you for too long. Enjoy the game tonight.
Where you can watch: 6:00pm start time on ESPN.