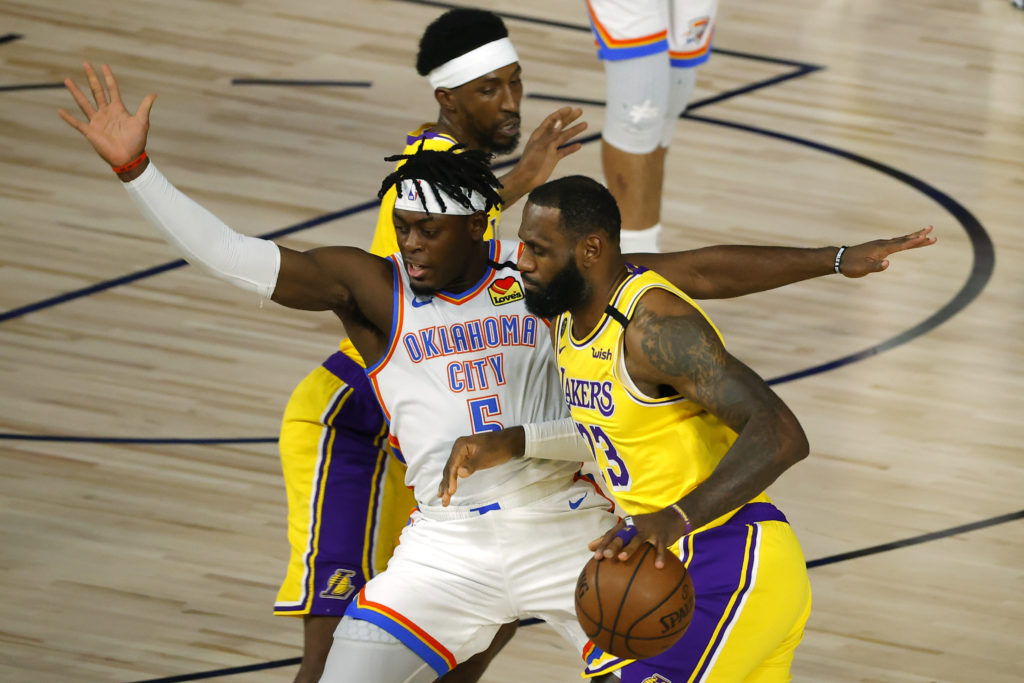 After taking two straight games from the Rockets in truly dominating fashion, the Lakers are now in Oklahom City to face the Thunder. It's the 2nd night of a back to back and after getting up to play a Rockets team with a lot of star power (regardless of the dysfunction), they now play an OKC group who lacks big names but play a much more together form of basketball.
That makes a this game somewhat of a trap game for the Lakers and one that could easily find them out of sorts or less attentive than the games in Houston. So, if there's nothing else to watch for this game, how into things they look in the early minutes, particularly defensively, will be a good indicator of which version of this Lakers team we're going to get tonight.
I, for one, think the Houston games give us some insight into the direction this team is going. More focused, more cognizant of the level of effort needed night to night in order to build the habits and structure that will serve them well come playoff time. I think the scores in Houston and thoroughly the Lakers dominated those games was certainly influenced by the level of connectivity the Rockets had — and was revealed more today when Harden got traded to the Nets — but the Lakers flexing their own muscles certainly contributed to.
Now, maybe you're wondering how I'm saying that, if on the one hand the Lakers have turned a corner, how on the other hand this is a trap game? Well, it's because it can be both things. Last year's Lakers played a more engaged brand of basketball from the outset than this year's team has. But last year's group also had some stinker performances where they sleptwalked for long stretches. It happens. Particularly if you're a good team that understands the long grind of a season and, as is human nature, won't get up for every single opponent.
Which is why this game is one where, going in, I feel like they could take their foot off the gas. It just wouldn't surprise me. Of course, the Lakers continuing to play hard and winning comfortably wouldn't surprise me either. As is the case every year, we're so early in the season that I, too, am learning what to expect night to night from this specific group of guys.
In saying that, there's some interesting things to watch for this game from the standpoint of individual matchups.
First, I'd be lying if I said I wasn't looking forward to Luguentz Dort taking a stab at defending LeBron. Dort is built like an outside linebacker and plays exceptionally hard defensively. He's strong enough to battle Bron in the post and moves his feet well enough to slide with Bron on the perimeter. Of course, Bron is Bron and can find an edge in any matchup. But Dort is good enough on that end to make him work and I'm very interested in seeing how their matchup plays out.
The other matchup I'm looking forward to is KCP/Schröder vs. Shai Gilgeous-Alexander. SGA is the team's leading scorer and assist man, and the type of young player I love to watch as he continues to develop. He plays at his own pace and is showing good comfort in creating shots for himself and teammates. Schröder, of course, has a history vs. Shai from their time together last season. He surely has some ideas of his strengths and weaknesses, and some of his pet moves to create space and score. I'd love to see those two get a lot of time defending each other because, as I've started to learn more about Dennis, he's just that super competitive type that will surely want to get over on his former teammate.
Lastly, both matchups in the PF and C slots intrigue me. On the Gasol/Horford side, you have two veteran guys who both space the floor, move the ball, and play good team defense. As a spacing big, particularly in P&R actions with SGA, Gasol is going to have to navigate his on ball commitments with recovering back to Al on the perimeter. That said, Al will need to do the same whenver Marc is parked up high and particularly when Bron enters to the ball to him and then cuts off of him or circles back for handoffs or P&R's of his own. Seeing who can get the better of who between these two bigs should be fun.
On the AD and Darius Bazley side, I expect AD get the better of the 2nd year forward, but it should be a fun matchup regardless. Bazley, beyond having a wonderful first name, is a bouncy and rangy athlete who is totally comfortable operating out on the perimeter. He's taking five 3-point attempts a night (only hitting 28%), but can attack closeouts and shows some pop as a finisher when he has a lane. I'm not saying AD is going to have his hands full, but there's enough there from Bazley's side to make this one fun.
Again, I hate to hammer this point home, but it's important: OKC is not a glamour team and getting up to play against them will require the Lakers to show a bit more mentally than they've shown in previous matchups like this one earlier in the year (the games in Memphis come to mind). OKC plays hard and they play together, making them dangerous. Add to the fact that they've yet to win a home game while the Lakers have yet to lose on the road, and this game offers a bit of streak busting motivation for them that shouldn't be swept aside.
So, come out and play hard and with the right urgency, Lakers. If you do, you can head back to Los Angeles feeling good about another undefeated road trip. Don't and…well, things get trickier.
Where you can watch: 5pm start time on Spectrum SportsNet.