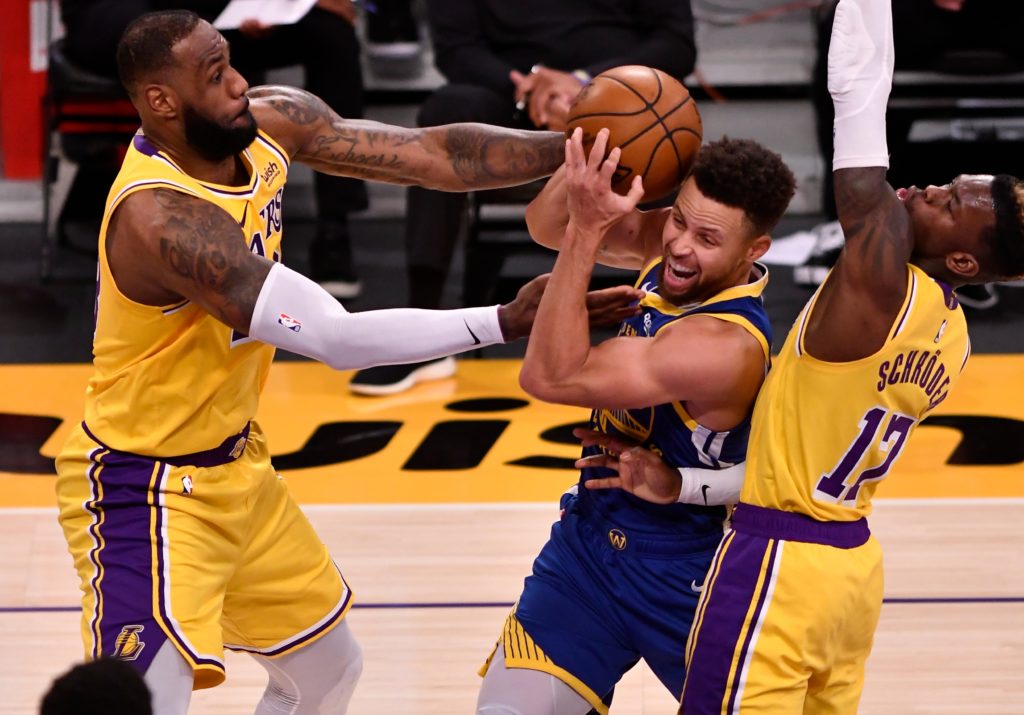 The Lakers face off vs. the Warriors on Sunday night, only two days after Dennis Schröder's return helped the team snap their 4 game losing streak with a win over Portland on Friday. Schröder's return cannot be overstated in terms of helpfulness and spark provided, and the hope is that he can carry that over another night vs. a Warriors team that offers some of the same challenges the Blazers do, but with a Draymond sized problem added to the mix.
The specter of the Draymond and Curry combination keeps coaches up at night, and I'm sure Frank Vogel is no exception. Curry's on ball prowess is amazing all on its own and if he were put into positions to play like a ball dominant lead guard, he'd probably still put up amazing numbers. But it's Curry's off ball work, his darting nonstop movement into and off screens, that works in tandem with Draymond's elite decision making and passing feel that puts Curry into the conversation of one of the league's best players overall and near the top of any best offensive player list.
The Lakers, then, will have their hands full tonight in trying to slow Curry down. And while those duties will mostly fall on Dennis, KCP, and Caruso, it would be silly to ignore how much defending Draymond also matters in that equation. This is where LeBron and Keef and Trez and Marc will come into play. Draymond cannot shoot and is not really a scoring option, but the space given to him also allows him to screen and pass with impunity, greasing the wheels for the Warriors halfcourt offense. Finding the right balance of when and how to pressure him can have a great impact on the timing that can make the Warriors offense hum even when they're missing Klay Thompson.
Offensively, we know it all starts with LeBron and I'm sure he'll see a diet of Wiggins, Oubre, and Draymond all night. Those guys will all give him different looks, undoubtedly trying to pressure his dribble and push him further away from the hoop where he becomes more reliant on his jumper. Bron, of course, can turn that gameplan upside down by making shots, but also by looking to get out into the open court in order to avoid halfcourt possessions altogether. That won't work every time, but the more assertive he is as an open court threat, the better off the Lakers offense will be.
A big part of that will be the team's defense, too. Can they force turnovers? Can they gang rebound the ball and then make the quick outlet? Can they put enough pressure on Curry and Draymond to give the ball up at disadvantageous times to secondary ball handlers who are not as good at making decisions and reads off the bound and/or against a short shot clock? If the answer to these questions is yes, the Lakers will be alright.
Let's get back to Schröder, though. Against the Blazers his work off the dribble unlocked so much for himself and the team, so the hope will be he can bring that same assertiveness and effectiveness this game. He's not likely to find as many easy switches onto frontcourt players this game, but if he finds himself isolated against Wiseman, Looney, or Paschall, I hope he looks to just attack quickly and see where it gets him, be it shots in the paint or opportunities to make a play for others. If he can give Bron that true 2nd threat offensively who can handle some playmaking duties, I'll like the Lakers chances this game.
And, lastly, one last defensive point: The Lakers were at their best vs. Portland when they were aggressive at the point of attack and then flowed into scramble situations behind that initial aggression. The Warriors are better equipped to handle that type of defense because of Draymond, but I'd love to see them test the Warriors mettle as passers at all 5 positions. Can Oubre make plays off the dribble? Can Wiggins? Can Looney or Pashall or Lee or Toscano-Anderson? If the Lakers can effectively speed those guys up and put them into reads on the move, they can hopefully create the type of chaotic environment that leads to miscues and then transition chances for the Lakers offense.
Oh, one last thing. The last time these teams played the Warriors made a big comeback when the Lakers stopped playing hard. Kelly Oubre particularly enjoyed the Lakers floundering, celebrating every step of the way with flexed muscles and primal yells and blown kisses and first down signals every chance he got. I'm not sure if the Lakers will remember all those antics or not, but I'd like it if they did. Just as a reminder to come out here and give their best effort.
Where you can watch: 5:00pm start time on Spectrum SportsNet and ESPN.