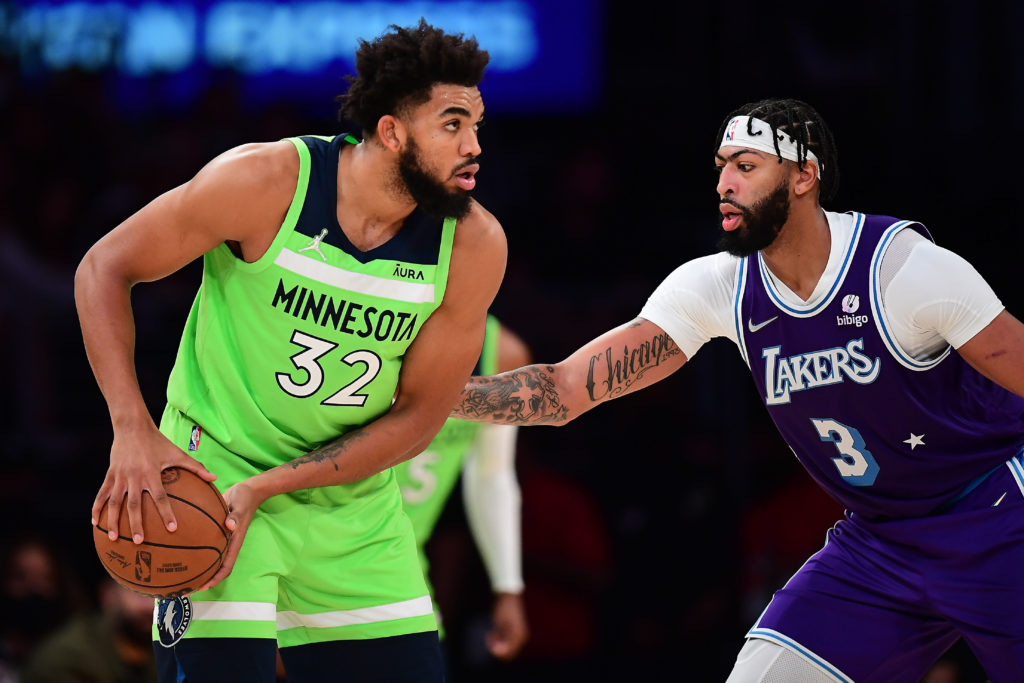 Probable Starters
Timberwolves: Patrick Beverley, D'Angelo Russell, Jarred Vanderbilt, Malik Beasley, Karl Anthony-Towns
Lakers: Russell Westbrook, Avery Bradley, Wayne Ellington, LeBron James, Anthony Davis
Injuries
Timberwolves: Anthony Edwards (out; Health and Safety Protocol); Taurean Prince (out; Health and Safety Protocol)
Lakers: Talen Horton-Tucker (out; Health & Safety Protocol); Malik Monk (out; Health & Safety Protocol); Dwight Howard (out; Health & Safety Protocol); Austin Reaves (out; Health and Safety Protocol); Avery Bradley (out; Health and Safety Protocol); Trevor Ariza (questionable); Kendrick Nunn (out)
—
Honestly, the ups and downs of the last 24 hours require me to just say that my head is spinning and I really do not have much insight into what this game will be or how it will go.
To summarize, since the Lakers last played a game — where Austin Reaves hit a game winning 3 pointer in OT vs. the Mavs — the Lakers lost Russell Westbrook and Avery Bradley to the NBA's health and safety protocols, got Malik Monk back from those same protocols, got Russ back from the protocols, lost Monk back to the protocols, and then lost Austin Reaves to the protocols.
They also officially signed Isaiah Thomas to a 10-day contract using a "hardship exception" because the team has so many players out/expecting to miss at least 3 games. Oh, and Trevor Ariza was upgraded to questionable for tonight's game, but doesn't seem likely to play.
On the other side of things, the Timberwovles have lost both Anthony Edwards and Taurean Prince to the protocols, leaving them shorthanded too, but not enough to get anyone's sympathies associated with the Lakers considering their current lot in life.
So, honestly, if you're looking for analysis about what this game might look like or how the matchups are going to go or what some potential X's and O's I might be looking at as important, you're not going to get much of that from me today. No, I'm mostly worried about the well being of the players — and, honestly of Mychal Thompson and Bill MacDonald, both of whom have tested positive in the last several days too — and hoping for mild or asymptomatic cases or, if that's not possible, quick recoveries.
What I will say about the game, though, is that as depleted as the Lakers are and as much as fringe rotation players (as well as IT) will be pressed into duty, the Lakers still have Bron, AD, and Russ available. Those three can, hopefully, play well and set a tone and tenor for how shifts will go when they're on the floor. All of those dudes are more than capable of extending their minutes for one night or, at the very least, carrying a bit of a heavier burden in order to lighten the load on role players in ways that help make their lives easier.
And, if LA's 3 stars can, in fact, pick up the slack of having so many of their role players out, with Edwards out for the Wolves, some of the matchups begin to tilt even more heavily in the Lakers favor. Bron and AD should be able to take turns defending KAT and Russ should be able to find his way vs. the Wolves guards. I'd hope to see the Lakers continue to exploit their ability to attack the paint and, on the other end, show enough defensive versatility and hustle to slow down the Wolves' scorers while also getting back to the glass. Those efforts, though, must be replicated by everyone on the roster and that is where some of the role players like DeAndre, Melo, Ellington, et al will need to do more than they're accustomed.
This would also be a game where I'd hope Chaundee Brown could steal a shift or two, bringing some of that energy and defensive spirit to help propel the team forward — particularly if they're looking a bit hampered or run down physically in the 2nd half. This is, after all, an all-hands-on-deck situation for the Lakers and everyone will need to be ready to give their all in whatever minutes present themselves.
Where you can watch: 7:00pm start time on Spectrum SportsNet and ESPN.