Probable Starters
Nets: Patty Mills; James Harden; Bruce Brown, Blake Griffin, Nic Claxton (??)
Lakers: Russell Westbrook, Wayne Ellington, Talen Horton-Tucker, LeBron James, Dwight Howard
Injuries
Nets: Joe Harris; Out due to Health & Safety Protocols: Kevin Durant, Kyrie Irving, Cam Thomas, LaMarcus Aldridge, Day'Ron Sharpe, David Duke, Jr., Kessler Edwards
Lakers: LeBron James (probable); Anthony Davis (out); Kendrick Nunn (out); Out due to Health & Safety Protocols: Malik Monk; Avery Bradley; Austin Reaves; Kent Bazemore; Trevor Ariza
—
As of now, there's a single one-and-done title in Lakers history. Now, I wasn't around in 1972, but I imagine the catharsis of hanging that first L.A. banner after seven Finals losses in a decade was enough to ward off any undue entitlement. It's a genuine one-off.
Take it back to Minneapolis. Twelve years, five titles. Showtime (Magic, at least) lasted twelve years, and included nine Finals trips and five titles. Shaq and Kobe's eight seasons brought four Finals trips, three rings, and obscene dominance that could be undone by its own authors. Even the harsh reality of 2011 was preceded by three consecutive finals runs two straight titles in a game seven finals win over the Celtics.
However sadly or uncomfortably each ended – Michael Jordan rudely ascending to his throne in 1991, the carnage of the '04 Finals, Andrew Bynum's midair love tap on JJ Barea – each was, unmistakably, an era.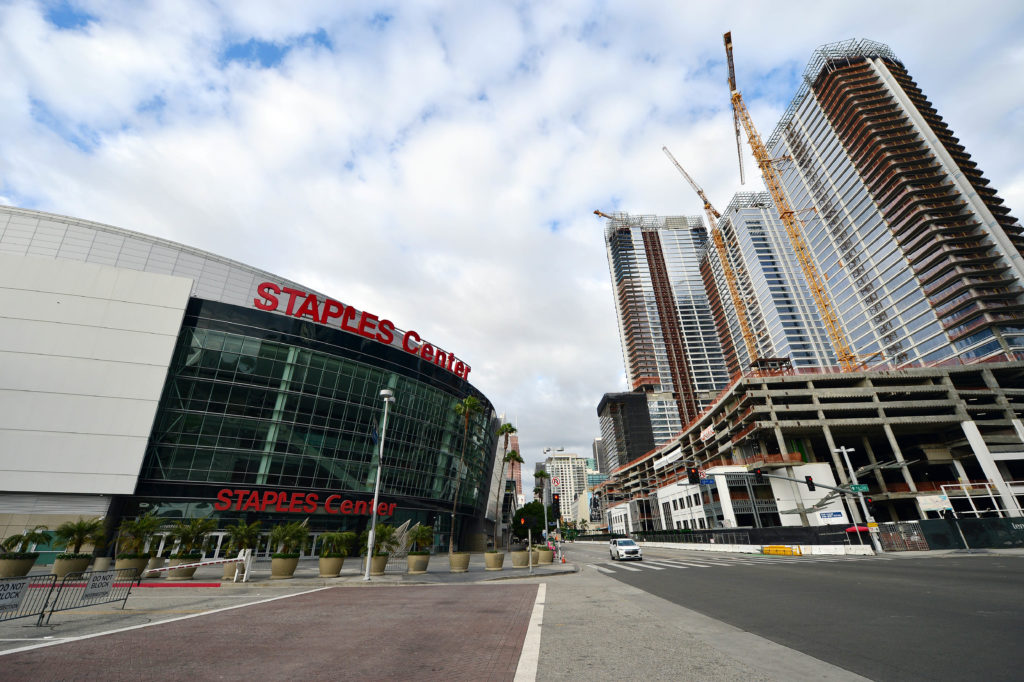 It's just a damn building. Hell, it's a damn building that's still going to be there! It just will no longer serve as a reminder for where to seek out stationary. I know that none of this shit actually matters.
And yet, this sucks.
It's not that the new name is super lame – though, yes, it is SUPER lame. It's that this change, at this moment is an all-too-stark reminder of where we're at with this Lakers team, and just how little there is to fully bank on.
I'm not trying to carelessly pen the conclusion of an as-yet-unwritten story – and I will be delighted if this team proves me wrong – but the Lakers' 2020 title feels increasingly like a one-off. In fact, it's going to take a miracle – not a minor miracle, but the genuine article – for four years of LeBron and three years of LeBron and Anthony Davis to yield even two trips to the conference finals. If this is, in fact, the case, it's tough to work out where exactly this team goes from here.
There's not a cavalry coming. Sure, improved health and greater continuity will certainly have a positive impact, but it feels willfully naive to see all the we've seen and expect this group to morph into the equivalent of a 65-win team.
We waited. Maybe it would be Trevor Ariza. Maybe his was the return that would change everything. Ariza is a solid veteran presence, an all-around excellent pro, and a champion. What he is not is some Ben Wallace-Michael Cooper, ready to be parachuted in, defensive identity in hand. Of course, this was never about Ariza. This is about Hail Mary solutions to embarrassingly obvious fatal flaws.
There are going to be games where the shots aren't falling. Sometimes you just can't dial in from three. Sometimes you're clanging your free throws. Some nights it's both. However, to combine these normal "off night" issues with a total lack of effort and intensity speaks to a structural problem. It's the same story before and after every game.
To get 36, 9 and 6 from LeBron, and an efficient, explosive 30 from Russ, and barely stay within 30 of a young, talented, soon to be very good – but hardly elite today – Spurs team is an indictment. To have the entirety of the gameplan rest on the ability – superhuman  as it is – of a 19th-year pro shouldering a load that few in history, at any age, have been able to handle, is a problem. And yet, it's the Lakers' only recourse. And, as it proves insufficient, presumably, we'll inquire as to just how much more can be piled onto LeBron's plate. How long can the Lakers keep demanding this of him, on basically no rest? Stay tuned, I suppose.
This Christmas, we descend once more into the Uncanny Valley. What was initially pegged as one of the season's marquee matchups is now LeBron and Russ, minus every other established shooter (save for Carmelo) and wing defender on the roster, against, basically, a Houston Rockets team of recent vintage. With Kevin Durant and Kyrie Irving sidelined, one would think that the Lakers should be able to notch a comfortable home win. That may well be what happens but, by now, we've learned better than to expect such things.
Where does this all lead? Who knows.
Given what we do know thus far about this team – combined with the fact that almost 20% of the remaining schedule is against the Suns, Jazz and Warriors – maybe it does make sense that we're not quick to move on from a name that's been synonymous with success (for all but the Clippers) and provided even modicum of stability.
Where you can watch: 5:00 pm Pacific start time on ABC and Spectrum SportsNet.