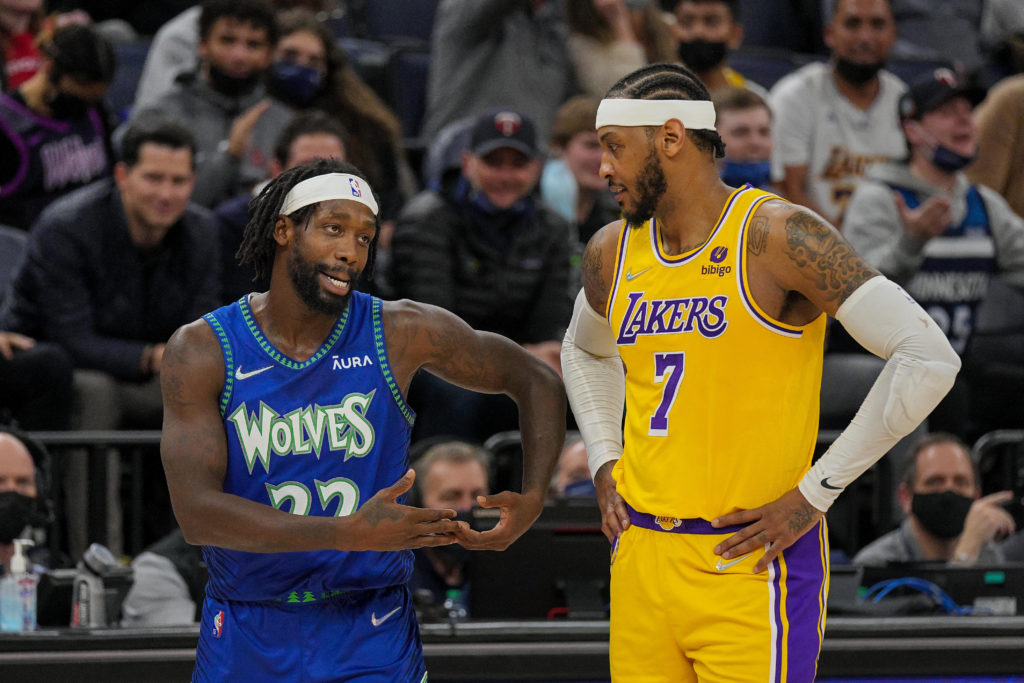 Probable Starters
Timberwolves: Patrick Beverley, Malik Beasley, Anthony Edwards, Jared Vanderbilt, Naz Reid
Lakers: Russell Westbrook, Malik Monk, Avery Bradley, Stanley Johnson, LeBron James
Injuries
Timberwolves: Anthony Edwards (questionable); Taurean Prince (questionable); Jared Vanderbilt (questionable); Out due to Health & Safety Protocols: Karl Anthony-Towns; D'Angelo Russell
Lakers: LeBron James (probable); Anthony Davis (out); Kendrick Nunn (out)
—
So, here's the thing. Two weeks ago, these same two teams played. The Timberwolves won. The game was on national TV, Karl Towns was mic'd up, and he (and his team) screamed and celebrated like they'd won the super bowl. I don't really blame them, I'm sure it was a big win for them. They played very well and earned that victory.
In that same game, however, one of the Wolves fell into AD's knee in the 2nd half and he left the game, not to return. From that moment on, the Lakers looked lifeless, when it really looked as though they were going to make a run to get back into and take control of the game. Of course, whether that would have happened or not will never be known. And, honestly, at this point I don't really care much about that anyway. AD is still out injured and won't return for another few weeks, and the team has had to move on without him, further refining their playing style in the process. So, looking backwards to that game doesn't make a lot of sense.
That said, remembering them acting this way, 1a certain celebratory obnoxiousness, like Ziggy putting a diamond necklace on his pet duck in The Wire wouldn't be the worst thing either. You see, the Wolves are down bad right now with a bunch of guys out or just coming back from the health and safety protocols. Towns is out, Russell is out, and Edwards is questionable as he gets his conditioning back up. I do expect the latter to play, but missing those other two is meaningful. But, the Lakers should be the last team to weep for anyone missing guys. Still without Davis, they've spent the last two weeks dealing with half their roster missing several games and their head coach just got out of protocols too. No one took it easy on them during this stretch and my hope is that they'll repay that favor tonight.
It's not the most gracious thing to type that out the way I just did, but as the NBA continues to roll out these games even as rosters are decimated, you simply hope to remain as healthy as you can, get some wins, and go from there. And, on that note, tonight offers a good chance for the Lakers do just that.
And that's because the Lakers, despite the obvious struggles in the last two weeks, are starting to get closer in several ways. Their health is improving, with only AD and Nunn unavailable now (Rondo is also listed as out, but he's waiting to be traded to the Cavs in a deal that was reported earlier this week). They're also fully embracing a style of play that has them playing smaller for longer stretches, leveraging the strongest parts of their roster to play in transition more, shoot more 3's, and generally dictate the terms of engagement more often. So, while the team is only 2-3 in their last 5 games, both those wins have been blowouts and only the lost to the Spurs was totally disappointing (the other losses were frustrating, to be clear, but the team played relatively well).
So, tonight, if there's one thing I hope to see it's the team continuing to find their stride as a small-ball team that gets better on both sides of the floor. Their defense does need to tighten, but my hope is that with Reaves, Ariza, and Bradley back we'll see more balanced lineups where the groups can defend better for longer stretches. If they can find that better defensive rhythm and continue play free on offense while shooting the ball well, the team can get its feet underneath them. And, if that happens, the results will follow.
Obviously, that's all seeped in optimism. Things could easily go in a different direction. But, I must say, LeBron is locked in right now and the rest of the team is following suit. And, while Bron won't score this well and efficiently forever, his attitude and approach has provide a north star to guide the team forward. And it's that fundamental idea that has me thinking the team will ultimately find its way.
So, here's to them staying on that path tonight.
Where you can watch: 6:30pm start time on Spectrum SportsNet.