In any field of endeavor, prodigious talent is idolized, achievement rewarded, lasting greatness immortalized. What then, of transcendent talent that achieves not only greatness, but actually furthers the evolution of the endeavor in which it is deployed?
Whatever his place in the Pantheon of basketball greats, that Earl Monroe is one of NBA history's most important players is beyond question.
And when I had the opportunity to sit with Monroe at the SNY studio in midtown, where was promoting his fascinating, newly released  autobiography, "Earl the Pearl," that is what most engrossed me. I didn't care about 17,454 points, or four All-Star selections, or that he was a Hall of Famer. This guy truly matters in the history of the NBA. This man Changed. The. Game.
The modernization of the NBA game is, by its very definition, a collaborative effort. Bob Cousy married style and substance like no superstar before him. Monroe not only carried on the work of pro basketball's original maestro, he infused it with a level of flair and artistry only just being refined in the game's blacktop laboratories. The clinical trial for every Pete Maravich, Magic Johnson, Isiah Thomas, Stephon Marbury, Allen Iverson, Jason Kidd and White Chocolate that's arrived since. Monroe delivered to the NBA the style and spirit of the playground like no one before. His signature back-and-forth, "windshield wiper" dribble – really an ancestor of the modern day crossover – that [insert legendary Olympic ice skater name here]-tight spin move, the change of pace dribble as a weapon, the double-pump, the pump fake… Earl Monroe redefined the way the backcourt game was played in the NBA.
I grew up on the playmaking stylings of Magic Johnson. It was difficult to avoid the sense that the game he was playing differed from that of his opponents. I'd venture that anyone who witnessed the early days of Earl Monroe's NBA career had a similar experience.
By the time he was dubbed him "the Pearl" early in his senior season in college, Monroe had already picked up "Jesus" (how's that for a nickname), "Black Magic" and "Thomas Edison," for his on-court inventiveness. Not bad for a dude that didn't take up basketball until his early teens.
In 1963, after starring at John Bartram High, he headed down the East coast, to Division II Winston-Salem State University. In four years under the tutelage of Hall of Fame coach Clarence "Big House" Gaines, Monroe grew into superstar befitting his playground monikers. After averaging 7.1 points per game as a freshman, he more than tripled his output, scoring 23.2 and grabbing seven rebounds per game as a sophomore, and continued ascent, dropping 29.8 points (on 56.3% from the floor and 86.6% from the line) and grabbing 6.7 boards per game as a junior. Already a star, Monroe's senior season and cemented his place among the singular greats of the college game, as he averaged an awesome 41.5 points (on 60% shooting) and 6.8 rebounds per game, earned the 1967 Division II Player of the Year award (in addition to a second All America selection) and led Winston-Salem State to the NCAA's Division II Championship.
In the summer of '67, the Baltimore Bullets used the second pick (behind Jalen Rose's dad) in the NBA draft to acquire Monroe's services. He proved an immediate revelation, averaging 24.3 points, 5.7 rebounds and 4.3 assists per game en route to the 1967-68 Rookie of the Year award. One night during his rookie campaign – on February 13, 1968 to be precise – Monroe hung 56 on the Lakers. Sadly, a combined 79 from Jerry West and Elgin Baylor kept the Bullets from victory, but the explosion set a franchise record that stood for nearly four decades (it was broken by Gilbert Arenas in 2006), and remains the fourth highest single game total by a rookie in NBA history. Four times in the 48 years since has a rookie gone off for 50+ – not one has managed to wrest from Monroe his place on the all-time list, behind a pair of 58's by Wilt in 1960 and 57 by Rick Barry in December 1965. Beyond permanently etching Monroe's name in the annals of franchise and league history, on a personal level the outburst provided Monroe with indelible proof of his place in the game:
"Coming into the league, I remember having seen all these guys play. And you have a certain amount of respect for these guys, and it's especially exciting to actually play against them. And Jerry was one of those guys. When we used to talk about him we'd say that Jerry could stop on a dime and give you nine cents change (laughs), so it was exciting."

An interesting thing about how our relationship began: we played Jerry at home, and during the game Jerry kept calling me 'Ben,' and I just said 'ok,' because I had no idea what he meant by that. But then I asked someone on the team and they said there's a guy named Ben Monroe that played for New Mexico, and maybe he's thinking you're Ben Monroe. And he kept saying 'good play, Ben', 'nice shot, Ben.' And we lost the game to the Lakers, but I had 56 points, and he had 47. After the game, he came and he shook my hand and said 'good game, Earl.' So, that kind of let me know that I had made it into the NBA, that I had been welcomed into the NBA."
The following season was individually Monroe's best as a pro, as he averaged 25.8 points and 4.9 assists, while leading the Bullets (along with a rookie named Wes Unseld) to 57 wins – up 21 from his rookie year – and their first playoff berth in three seasons. Monroe continued to put up numbers, averaging 28.3 points, 5.3 rebounds and 4 assists in the playoffs, but shot just 38.6% as the Bullets were swept by the Knicks. The 1969-70 season mirrored its immediate predecessor, as the Bullets – led by Monroe's 23.4 points and 4.9 assists per game – notched 50 regular season wins and once again crossed paths with the Knicks in the opening round. As they had the previous season, the Knicks proved too much for the Bullets, though an excellent showing from Monroe – 28 points and 4 assists per game, 48.1% FG, and a playoff career high 39 in Game 1 – pushed the eventual champs to a decisive seventh game.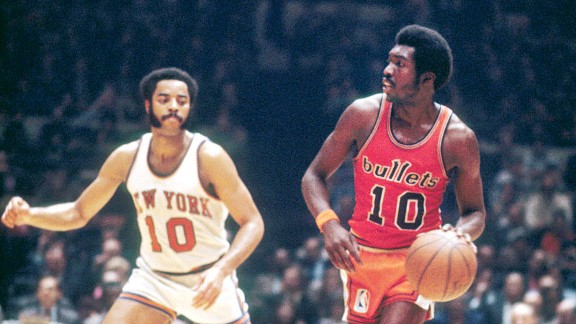 As a team, the Monroe-era Bullets "peaked" in 1970-71, his last full season in Baltimore. Monroe's scoring average dipped, to 21.4 points per game, and the team won eight fewer regular season games – though their 42-40 record was good enough to win an awe-inspiringly bad Central Division by six games. Upon landing in the postseason, however, the Bullets' worm turned, as they outlasted the Hal Greer/Billy Cunningham-led 76ers and the now-familiar Knicks in seven games apiece to reach the NBA Finals, where they were dispatched in four games by Lew Alcindor, Oscar Robertson and the Bucks.
After the 1970–1971 season, amid a salary dispute with owner Abe Polin, Monroe's agent informed the Bullets that his client would no longer play for the team, and that he wished to be traded to either the Lakers, Bulls or 76ers. In the opening days of the 1971–1972 season, with a deal yet to be made, Monroe traveled to Indianapolis to discuss a transfer to the ABA's Indiana Pacers. The trip wound up serving as something of a wakeup call:
"I had given the Bullets three teams that I wanted to be traded to: Philadelphia – which is where I was from – Chicago and L.A. I went out to Indiana to just see about maybe playing for the Pacers. And it was all well and good, great team, good organization. But after the game, I went to the locker room and over the top of their regular lockers there was a smaller locker, and guys were taking guns out of there. (Note: Monroe did not get into this with me, but in the book he mentions that the Pacers players brought to his attention, a certain threat). And I got really apprehensive. Back in those days we didn't have cell phones, so I had to walk around the building to get to a pay phone, where I called my agent, Larry Fleischer, and told him, 'Larry, I don't think this is where I want to play!'

That's when he informed me that 'well, I've got a deal in place for you with New York.' I thought he was kidding, because we had played against New York [in the playoffs] for the last three years, you know, like tooth and nail, they were hated, and I said 'I don't know, I'll have to think about it.' I went home and thought about it, talked to some friends, my mom, my sister, and what I came away with is that, I was always a scorer, so I had to think about that, but I could play anywhere, you know? I was a basketball player. I always prided myself on being from Philadelphia and really knowing how to play basketball. I knew I wouldn't be able to do all the stuff I wanted to do as an individual, but I thought this would be another challenge."
Despite his wish list, the immediacy of the deal, along with his rapidly waning desire to join the Pacers, Monroe accepted the proposed trade to the New York Knicks. Understandably, there was initially some trepidation about joining not only a bitter rival – Monroe had faced the Knicks 45 times in his first four NBA seasons, 18 of those meetings in the playoffs, including seven-game battles in each of the last two postseasons – but one that featured an established core of veteran stars, including a dominant lead guard. With Walt "Clyde" Frazier in the driver's seat, Monroe handled the ball less than ever. During the 1971-72 season, Monroe was hobbled by knees and ankle problems, which cut both his playing time (21.2 minutes per game) and scoring (11.9 points per game) nearly in half. However, the injuries that initially limited him in New York proved perhaps blessings in disguise, as Monroe was able to observe the team, learn its rhythm and acclimate to his new role and new mates – Clyde Frazier in particular:
"They came in on my first day and welcomed me into the core. I'm sure Clyde had some apprehension, because here's this guy who's coming in to play the same position that he's playing. But I wanted to make sure that I wasn't stepping on any toes, because I was coming to his team, he wasn't coming to my team, so I had to make the adjustments to make sure that this worked.

There wasn't any real friction, it was just a matter of learning how to play with this new cadence. In Baltimore, I kinda judged everything through music, and I had my own cadence. When I came to New York, I had to adjust to Clyde's cadence. And that was really the hard part, because when you have your own team, you know when to take over the game, you know when to give guys the ball, or different things that need to be done during the course of a game. Clyde had that here, and I needed to learn how to fit in with that."
After playing a limited role in 1971-72's near-title run, Monroe bounced back in 1972-73, playing nearly 32 minutes per game, regaining his efficiency (48.8% FG, v. 43.6% in 1971-72) and exhibiting his grasp of Clyde's cadence en route to "Rolls Royce Backcourt" status and the 1973 NBA championship. By the end of the 1972-73 season Monroe had become a Madison Square Garden favorite. Although he averaged a relatively modest 15.5 points, his moves still dazzled, and he'd taken on added responsibilities as a perimeter defender. He routinely guarded the opponent's best perimeter scorer, allowing Frazier more freedom to play the passing lanes.
The Knicks finished second in the Atlantic Division in '72-'73, setting the stage for another the Knicks-Bullets playoffs clash – only this time, Monroe was on an unfamiliar side. The Knicks made relatively short work of the Bullets, taking the series in five games, with Monroe averaging 21.8 per game, though it's worth noting that he lit up his former mates to the tune of 27 per game in three victories at the Garden (including 32 – his career high as a Knick – in Game 2), while in Baltimore, he (not surprisingly) received a rather cool reception and (not coincidentally) managed just 27 points in two games. Monroe played a supporting role in the attack for the remainder of the postseason, as the Knicks topped the Boston Celtics, they of an NBA-best 68 game in the regular season, in six games, before toppling the defending champion Lakers in five to claimed the 1973 NBA title. Monroe eclipsed 20 points just three times in those final 11 games, but he played a vital role in helping the Knicks secure the crown, tallying 21 points in a Game 3 victory and a team-high 23 in the Game 5 clincher.
When they [the Lakers] won the championship in 1972, that was disheartening – that was very, very disheartening – but at the same time we felt as though we could come back and compete. We got the opportunity in '73 to come back, and they had a great team, with Wilt and Gail Goodrich, Jim McMillan, actually I think Pat Riley was on that team, though he didn't play much, Keith Erickson, Bill Bridges… they had a real formidable team and we knew that it would hard to beat them, but we felt confident after the first year because we really felt as though we should have played much better. And we won it in five games. It was a reversal of the way it had happened the year before. I think we won the first game and lost the next four, if I'm not mistaken (he's not), and then in '73 we lost the first game and won the next four."
During the mid-1970s, Monroe continued to produce. He averaged 20.9 points per game in 1974-75, 20.7 in 1975-76, and 19.9 in 1976-77, and was twice named an All-Star. The Knicks, however, had seen their best days, and by 1979 were failing to qualify for the playoffs. Slowed by a series of serious knee injuries, which had plagued him throughout his career, Monroe retired in 1980, after 13 years in the NBA.
HOWEVAH…
The final chapter of Monroe's career just happened to coincide with the arrival of another charismatic young playmaker, one who, like Monroe, was not blindingly fast or great leaper. As Magic Johnson prepared to take the NBA by storm, Monroe – now no longer commanding a star's minutes – was seen as a potential mentor to the young superstar, and nearly a decade after first making eyes at the West coast, nearly wound up in forum blue and gold:
"It was my last year here in '79-'80, and a guy from Philadelphia that played for the Lakers at one point and was working for them was a guy by the name of Walt Hazzard, and Hazz came into the locker room – we had played them here first – and he pulled me aside and told me 'you know, we're thinking about trying to trade for you, so that you can be like a caddy for Magic. Would you be amenable to that?' At that point I wasn't playing too much here in New York, and I thought about it and figured 'Yeah!', it would be a great way to leave the game, out there in Los Angeles. Later, when we played them in L.A. – I think it was January or February – he came back to me and asked me the same thing – 'are you still ready to do that?' – so I'm thinking it's all ready to go down (laughs), and eventually, from what I understand, Jerry West put a word in and it wasn't done. But that's just speculation. I would have loved to go out there – Magic played pretty much the same type of game that I had, with the razzle-dazzle and no-look passes and what not…"
Asked if he ever asked Jerry West about that:
"No. Because I'm not sure that he did that, and even at that, for the most part Jerry's a great guy, and we have a lot of respect for each other."
In my final minutes with Mr. Monroe, having already spoken about the Lakers' legends of the '60, '70s and '80s, I had to get his thoughts on the latest Laker legend, and fellow Philly guy, Kobe Bryant:
"I've watched his career for a long, long time, since he got into the league, specifically because I played with his father, Jelly Bean, Joe Bryant. So, I've seen his game change and I've seen his attitude change, and the fact that he worked so hard to get to where he is, when you think about guys coming out of high school, some of those get the opportunity to play early on – he didn't get that opportunity. He worked at it, and I was very impressed with that. And once he started playing, he set a new standard for how to play the game. I mean, when you think about Michael Jordan, you also have to think about Kobe Bryant.

And this year – I said it before the season (chuckles) 'Kobe's gonna have a bad back by the end of the season if he's going to try and carry this team.' But, to his credit, he willed them into the playoffs. There was so much controversy this season, with Howard coming in, he changed his game for a little bit of the season, he shot less, and then, later on, picked it back up when they needed it. So, you know, he's one of my all-time guys, and I'm happy to know him, and to know that he's from Philadelphia."
Sincere thanks to Earl Monroe for his generosity, with both his time and his memories.