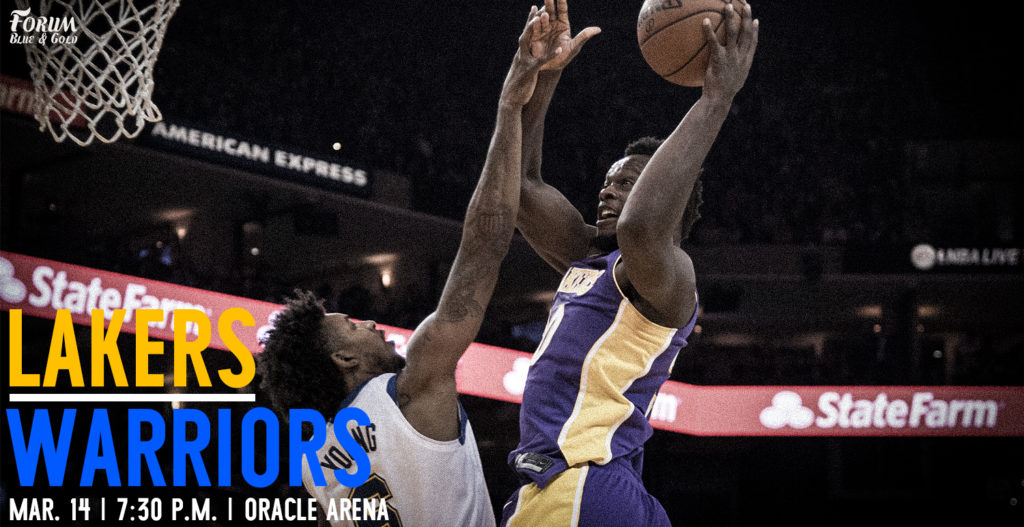 We told you yesterday, in the lead up to the game with the Nuggets, that it was a game which had more significance than what is typical for a random Tuesday night in March. The atmosphere during the game and how the players carried themselves throughout reflected that. The result was a 112-103 Lakers win, which felt great.
Julius Randle and Kyle Kuzma had matching 26 point, 13 rebound statlines – though through totally different paths. Randle, as he has all year, feasted on the interior with power drives, offensive rebounds, and open court attacks on the rim. Alternatively, Kuzma bombed away from the outside by making 5 of his 11 three point attempts and then used his perimeter skills to attack the painted area where he finished on a variety of slalom-stepped runners and hook shots.
While the game was a win in the ledger, though, it may end coming with a loss. Kuzma sprained his ankle in the W and was gimpy after the game. With Ingram and Hart still out, Kuzma has played the majority of his minutes at SF of late and with a game tonight in Oakland, him being out would be a massive loss.
There are no silver linings when it comes to injuries so I'm not going to act like having guys hurt on either side is a good thing, BUT the Lakers aren't the only banged up team. The Warriors injury list reads like the all-star game selection show as Steph Curry, Draymond Green, and Klay Thompson are all out. They join David West and Patrick McCaw who are also on the shelf. The Dubs will get Andre Iguoldala and Jordan Bell back, which is good for them, but they'll be shallow all over the court and their depth around Kevin Durant will be severely tested.
What this means for tonight is…well, I wish I could tell you how this is actually going to play out, but I can't.
On the one hand, the Warriors missing three all-stars (including one who doubles as an MVP candidate and one who is a perennial DPOY candidate) is huge. Throw in their best backup big and a nice enough rotational guard who fills gaps in moments just like these when others are hurt, and it's a major thing.
On the other hand the Lakers are coming off a back to back that was an emotionally and physically taxing game, are hurt themselves, and the game is in Oakland. Add in that the Warriors still have that Durant guy and, well, this idea that the Lakers could be favored is not something I'm totally buying – if I'm buying it at all.
That said, if the Lakers can leverage their strengths at PF and C with Randle and Brook Lopez, have Lonzo and KCP hit some shots, and get some steady, if unspectacular, minutes from Alex Caruso, Travis Wear, and Ivica Zubac, they'll be in this game. They'll need to mark Nick Young from behind the arc, Make Iguodala beat them as a shooter, and challenge shots from Livingston when he posts up, but that's the game plan anyway. It would also help if Durant didn't go nova on them.
But one can only ask for so much.
I think in an ideal world, Durant gets his and the role players are held down while the Lakers hit shots at a high enough rate to have some cushion so the inevitable KD surge down the stretch doesn't sink them. So, I'm hoping for that. A win in Oakland would be nice even if the circumstances for both teams are far from ideal.
Where you can watch: 7:30pm start time on Spectrum Sportsnet and ESPN.