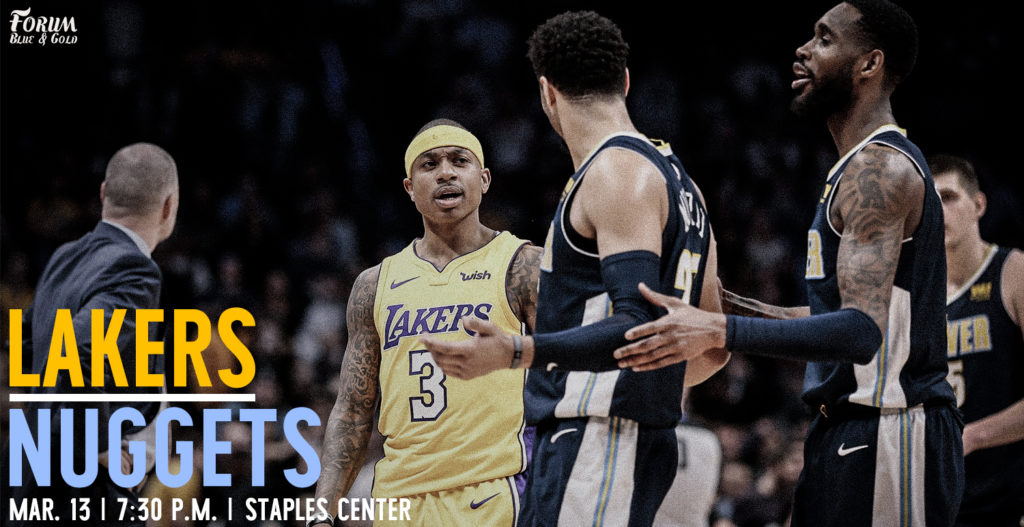 I cannot recall a random Lakers game on a Tuesday night in March which had this much general intrigue from both fans and (seemingly, on the Lakers side, at least) the players. The Nuggets are coming to Los Angeles and the game is circled on the calendar.
If you've seen the games between these two teams, however, you probably understand. Earlier in the year the Lakers lost to the Nuggets and, in the closing seconds of a meaningless dribble-out-the-clock possession, Nuggets guard Jamal Murray sort of half-taunted Lonzo Ball by dribbling around him in a "I'm going to show him up" sort of way. Ball's teammates were not pleased and promptly went and fouled Murray while jawing at him pretty severely.
Then, just last week, after Lonzo Ball committed a pretty bad turnover on a fairly important late game possession where Murray collected the steal (and then was fouled), Murray sort of turned towards the crowd (on the same side of the Lakers bench) and made a hand gesture of some sort.
Now, I've no clue if Murray was taunting the Lakers bench or trying to hype up his home crowd or a little bit of both. What I do know is that Luke Walton did not take kindly to it, going into a profanity laden outburst clearly directed at Murray which closed with Walton calling the Nuggets guard a "bum".
After the game, there were more comments about Murray from the Lakers players — nothing as forthcoming as Walton's in-game verbals, but let's just say it's pretty clear he's not liked. What's also clear is that guys are looking forward to tonight's game. Whether because of Murray or simply because they've lost to this team twice this year.
How this all translates to the game remains to be seen, but it does add another fun variable. Beyond how the Lakers will defend the three point line (hello Murray, again), whether they can neutralize Nikola Jokic, how they deal with Paul Millsap on both ends of the floor, etc, etc, there is now the question of whether they can channel their emotions in a positive way to help them win the game. Or whether those emotions will get the best of them, leading to unfocused, sloppy basketball on both ends.
If it's the latter, that would be a shame. That much I know. The Lakers remain shorthanded and will again be without Brandon Ingram. They also play the Warriors on Wednesday night, so there's already some potential for a built-in distraction. But this team has been playing well for a while now and despite some tough losses, have carried themselves like a winning team even if their overall record isn't quite there yet. This is progress and I hope to see it continued this game.
Not just because I want this momentum to continue to build into an off-season that is pretty important. And not just because I want the Lakers to play spoiler vs. teams who have a real playoff stake down the stretch of the year. And not just because, like the players, I want a bit of revenge extracted. But mostly it's because my world is better when the Lakers win. So, you know, help me out guys.
Where you can watch: 7:30pm start time on Spectrum Sportsnet and NBA TV.