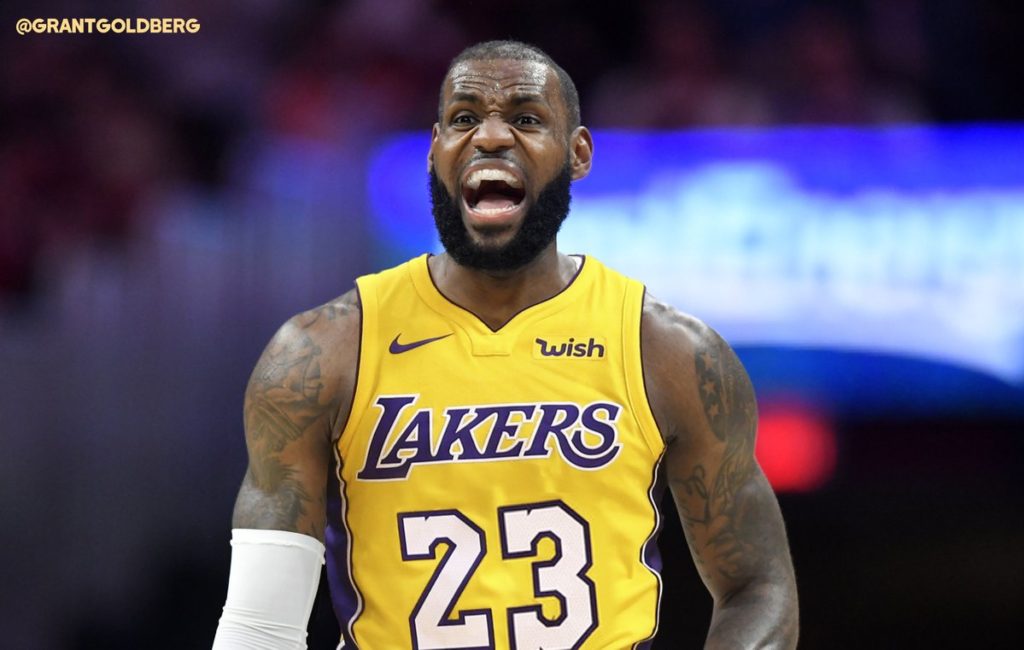 The front office of the Los Angeles Lakers did exactly one thing this summer that played to conventional wisdom—they signed LeBron James. After that, the wheels of the free-agency bus seemed to go bumpity-bump, all through the league.
But what if all this turns out to be the kind of mad genius that is so rare yet determinedly bonkers that it ultimately becomes part of the historical record?
The acquisition of the King— on a four-year deal no less—was the ultimate pot of gold. James is not only firmly entrenched in the pantheon of greats like Michael, Magic, Kareem and Kobe, he could well end up as the undisputed GOAT. Additionally, the multi-positional functionality of his unique gift—a turbocharged terminator with elite playmaker ability—allows a certain latitude when it comes to the pieces management surrounds him with. Things like analytics tend to warp beyond their standard reliability in James' presence: he turns data points into small children who run screaming for the hills when faced with his relentless soul-crushing attack.
But you still need to field a team around such an icon and that means players with recognizable basketball skillsets. For President of Basketball Operations Magic Johnson, that meant putting as many playmakers on the floor as possible with the 33-year-old superstar.
"James doesn't have to make every play," Johnson said, per Lakers.com. "That's what wears him out, what wears him down. He doesn't have to make every play now. We got guys that can make plays on their own, so he can relax on offense some."
On the evening of July 1, the common narrative among dedicated hoops observers involved various elite athletes that were still in play, from bigs to pure shooters. And here's where things started getting screwy.
Hours after LeBron came on board, the Lakers picked up Lance "Born Ready" Stephenson. It was viewed in the moment as a curiosity and a laughable irony that would not detract from the ongoing celebration. Moments later, JaVale McGee arrived. Cue the needle swiping off the vinyl.
The following day, a further shifting of the tectonic plates: Los Angeles renounced their rights to Julius Randle, a gifted 23-year-old bull in a china shop who immediately joined the New Orleans Pelicans. Almost simultaneously, veteran free agent Rajon Rondo (late of the very same Pelicans) joined the Lakers.
Not only was Randle seen as a potential starter alongside James, he was also a hypothetical piece in a trade that never happened for the San Antonio Spurs' Kawhi Leonard. Adding to that were deeply engrained suspicions that Rondo with his non-shooting and recalcitrant ways, would be no fit at all in a new ecosystem consisting of one megastar surrounded by young talent.
If there was any ballast it was the re-inking of Kentavious Caldwell-Pope who thrived in L.A. last season as an effective ball hawk and spot-up shooter. And, apart from Randle's exodus, the Lakers retained their core of burgeoning aptitude, toplined by Brandon Ingram, Lonzo Ball, Kyle Kuzma and Josh Hart. This is a crucial component of the team's masterplan: according to Bleacher Report's Eric Pincus, the Lakers' coaching staff is eager to see their version of GSW's Death Lineup, with LeBron surrounded by the aforementioned young guns.
Days turned to weeks as the remaining FA pool ebbed away. Meanwhile, Las Vegas proved an enjoyable respite with rookies Svi Mykhailiuk and Moe Wagner showcasing their skills. The continually improving Hart was named the summer league's MVP.
It came as some surprise then, when the Lakers chose to fill their final roster spot with one Michael Beasley: the ultimate wildcard, a player of prodigious offensive flair and a former No. 2 overall draft pick who gambled opportunities away and wound up a journeyman with seven NBA stops plus China over a decade. There are few athletes who have generated more controversy over a career or who have been given more chances.
It is also true that Beasley shares a reputation with Rondo, McGee and Stephenson that is nearly impossible to shed. Once a player reaches a certain age and accrues too much questionable baggage, there's really no going back—just a serpentine journey, travelling from team-to-team, one arena to the next, increasingly under the jaundiced microscope despite playoffs, championships and accolades.
But if it's easy to assume a narrative that Johnson and general manager Rob Pelinka punted after signing James, it is also worth considering the counter tact of due diligence, deliberation and even a method to the madness. And sometimes it's fun just to revisit the not-too-distant past through the lenses of those who do not regularly tread the Lakers beat.
"Watching Rondo in his element is as visceral as it is academic," wrote The Ringer's Danny Chau during this season's Western Conference second round. "The theory of Playoff Rondo is presented as an inexplicable phenomenon, but its properties are firmly rooted in mathematics."
"I will always watch Lance Stephenson and not just because his minutes are almost always a dichotomous struggle between Shaqtin A' Fool and SportsCenter's Top 10," observed Fansided's Ian Levy. "I watch Lance Stephenson because I admire the hunger, especially for something so pure and simple."
"He scores like the rest of us breathe, he's unbelievable," is how a coaching professional described Beasley, per Ian Begley for ESPN. "I always say that if there was a one-on-one tournament, make it, take it, I'm going with Beas."
"His box score numbers weren't spectacular, but McGee was never going to be a stat-sheet filler on this Golden State team," wrote Justin Mak for Golden State of Mind. "What he instead provided was a vertical threat and the intangibles that the Warriors desperately needed at that point in time—a boost of energy that was so palpable, it was as infectious to viewers through their television screens as it was to the players on the court."
One of the most fascinating aspects of the Lakers' offseason is the counterweighting of two very different platoons—each of which serves to complement the tentpole acquisition of LeBron James—and how these subdivisions might ultimately mesh, or not mesh. On one side are the next-gen talents of Ingram, Ball, Kuzma and Hart; representing not only two-way versatility but an enormous financial advantage through their continuing rookie contracts. The veterans are on a different page with one-year deals—they either embrace their roles and serve the greater good or hop back on the journeyman's path next summer.
Any such divisions, perceived or otherwise, will have to be set aside for the experiment to work. Luke Walton has shown the ability to distill eclectic influences from his own coaching mentors into a singularly chill stew. Johnson is the ultimate Showtime hero and Pelinka uses years of elite sports agent savvy to continually reposition the team's purchasing power.
But it will fall on James as the new face of the franchise to make it all work on the floor: to lead by example and find the elusive balance between game heroics, the rising and setting suns of his teammates and ultimately, the gift of trust.
For if a hero can save the best for last, if a disparate cast of characters can find commonality, what else might be possible? Heat ripples off the southland, plates clink in a gym, traffic stalls and ghosts from the rafters are released on the wind. The NBA regular season is less than three months away.