Championship or bust. This has long been the mantra of the Los Angeles Lakers. When you have 16 Larry O'Brien trophies as an organization (dating back to the team's days in Minneapolis), this makes sense. That said, when you have now gone 6 straight seasons without even making the playoffs, it is sort of comical that this team has carried the type of spotlight it has or had these these aspirations as something to even consider in recent years.
Last season that was supposed to change. Well, sort of. LeBron James' arrival meant a return to relevance — even if he came without a second superstar in tow and would need major leaps of development from the team's young core that surrounded him to get there. Injuries, including a LeBron groin pull via a Christmas Day slip during a loose ball scrum, resulted in a return to the lottery, not relevance. An offseason of disappointment was upon them again, by mid-April.
The summer brought massive change and, with it, renewed expectations. Three of the team's prized young players were swapped for the generational Anthony Davis. Davis' reputation took hits for how he pushed his way out of New Orleans, but his talent is unquestioned. He's in the conversation for the best big man in the game and the league's best two-way player. He's a perennial All-NBA player and, before asking off the Pelicans, was in the conversation for MVP and Defensive Player of the Year. A Davis and LeBron pairing offers this franchise two pillars that under most circumstances propel you into the upper tier of the league and a title contender.
After trading for Davis the Lakers turned missing out on Kawhi in free agency into a bounty of role players, targeting shooting and defense to round out their roster. JaVale McGee, KCP, Alex Caruso, and Rajon Rondo were brought back from last year's team. Danny Green, Jared Dudley, Dwight Howard (after DeMarcus Cousins was lost to injury shortly after signing), Quinn Cook, Avery Bradley, and Troy Daniels were brought into the fold. This free agent group combines with Kyle Kuzma to flank Davis and LeBron with shooting, defense, and some playmaking to, hopefully, be the core of role players who can equal more than the sum of its parts to compete for a championship.
Offensively the formula is simple. LeBron and Davis will run two-man game actions via pick and rolls, off ball screen actions, and handoffs to create easy baskets for each other and draw enough defensive attention to free up their teammates for open shots. Frank Vogel seems determined to optimize both James and Davis by giving them the ball and telling them to go to work. We know Davis and LeBron are good enough to hold up their end of the bargain. The question is whether the role players will hold up theirs.
And, yes, this is a very real question.
Danny Green shot 45% on 3's last season in Toronto, but the last time he shot over 40% from deep before last year was the 2014-15 season. Green's shooting will be paramount to the Lakers success, but he'll need to be closer to his Raptors numbers than his last couple of seasons in San Antonio. Can he? Avery Bradley's been one of the lower end offensive players in the league the last couple of seasons. He's settled for too many long 2's and hasn't shot them well. Will that change?
Quinn Cook's shooting percentages are strong and his confidence is high, but in an outsized role during the Warriors run through the Finals his ups and downs stood out under more scrutiny. Caruso remains mostly unproven save for a hot stretch to close last season. Jared Dudley's reputation as a mentor is strong, but can he still produce at a level to be a consistent rotation player? Rondo gets praise for his leadership and ability to run an offense, but will he shoot well enough at a high enough volume to be able to play next to LeBron in high leverage moments? KCP's done his best in low stakes games where his role and shots are guaranteed. Will he wither when the competition for minutes is high?
And then there's Kuzma. The 3rd year forward has the versatility to fill a need on the wing and the size and skill to be slotted into a forward position between LeBron and Davis in lineups where the latter plays center. He has the needed scoring punch to be a key contributor off the bench and is respected enough by defenses to close games and keep defenses honest when LeBron and Davis are carrying the load in those crucial final minutes. But, will his shot selection issues be corrected? Can he return to the form he showed as a rookie behind the arc? Has he made improvements with his handle and can he show more than just flashes as a passer and shot creator for teammates?
Don't mistake my questions for a belief that this group isn't capable. I do have confidence the answers to the questions above can be yes in most, if not all, of those cases.
It's rare to have such a symbiotic pairing of superstar talents to help elevate the players around them. LeBron or Davis on their own can be the focal point of a high functioning offense where their own individual brilliance occupies so much attention that role players are put in the types of advantageous positions where their jobs are exponentially easier. Pair them and that effect only multiplies. There's a reason Green said his decision to come to the Lakers was as easy as the LeBron/Davis duo.
The types of open shots Green, Kuzma, Cook, Bradley, and Dudley will get this season will be bountiful. They're the types of shots role players mostly dream of. Yes, they'll still need to knock them down, but as (mostly) veteran players who have stuck in this league for a long time, their longevity is a product of doing exactly that at a level good enough to still be sought after.

Defensively the questions are just as prevalent, but the potential for answers that work out for the team are also there. Green is a plus level defender on the wing, is wonderful in help situations, and great in transition. KCP can chase shooters off screens well and can generate steals when pressuring passing lanes. Bradley can be physical at the point of attack and pressure ball handlers into delayed initiations that put offenses into short clock situations. Dudley, meanwhile, can hold up in isolation situations and is a wonderful team defender who is in the right spot way more than he isn't. Caruso is a nice blend of both on ball skill and fight in off ball situations. He'll battle on switches and on the backboards.
And while Cook, Rondo, and Kuzma don't have good defensive reputations, the hope will be that they simply try hard on that end and can work well enough within schemes meant to protect perimeter players with active big men who will control the paint and challenge shots from the mid-range to the restricted area with vigor and smarts.
The ceiling, then, on both ends of the floor is high. And it will be on Vogel to get these players there via smart rotations and personnel groupings that optimize them. The preseason, unfortunately, did not tell us much in this area. Injuries to Cook and Kuzma saw that duo play in a single game combined. Dudley only played in half the team's 6 contests. Rondo did not play in the team's final 3 preseason games. The mixing and matching was plentiful and did not give us a great idea as to what Vogel thinks will or will not work or how his rotation will play out over the course of a full season.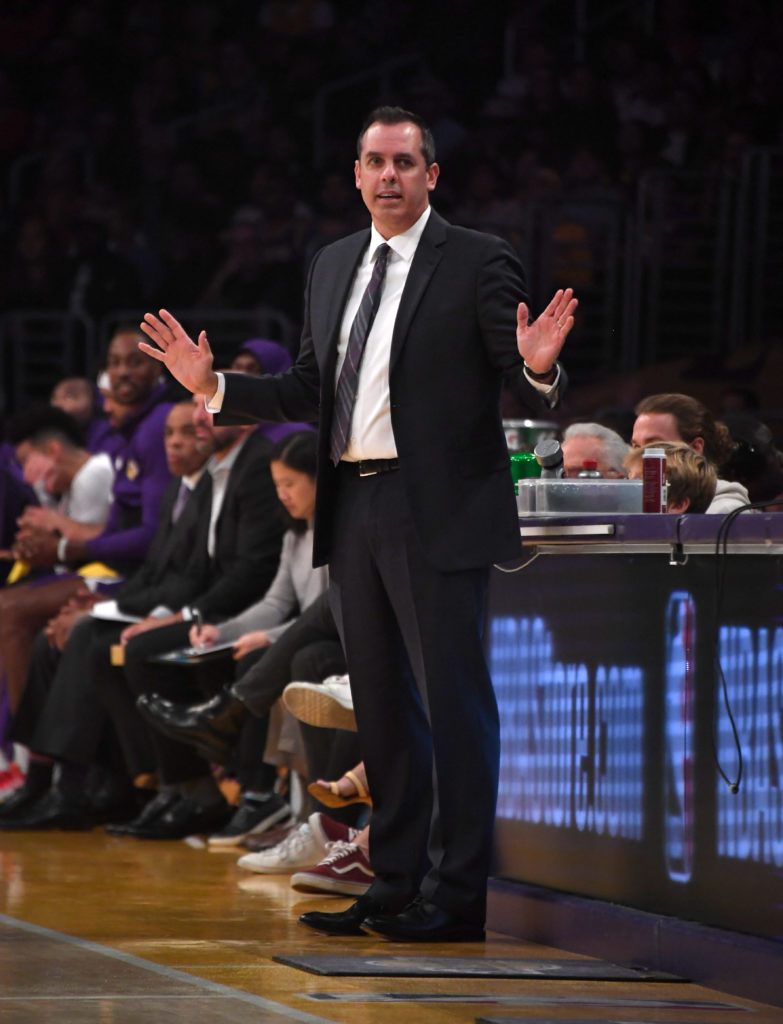 He'll have positional battles to sort through and minutes to dole out. Dwight or JaVale? Rondo or Bradley or Caruso or Cook? Kuzma or a traditional center next to Davis? Where does KCP fit in? Does Daniels' offense help more than his defense hurts? Does Dudley play every night or just every 2 out of 3 or 3 out of 4? We know this team has depth, but deploying it in useful and strategically smart ways will be on Vogel. And if he doesn't do it, the questions will come quickly as to whether he's up for the job. And with Jason Kidd waiting in the wings as one of his assistants, the trigger on when to start asking that question will be quick.
Ultimately, then, this season will have the inherent drama of every Lakers campaign. Questions about the coaching, Davis' pending free agency, LeBron's status as one of the league's very best, and the quality of the team's role players will be front page news after any even slightly prolonged stretch of uninspired play. This team will not only have to hold off the team they're facing on the court, but the headline makers who will also be ready to pounce if things look shaky. LeBron is the only person associated with this franchise used to the level of scrutiny this group will have to endure. Can the players hold up under the microscope? Can the coaches?
Through it all, I remain cautiously confident. The equation is simple. LeBron + Davis + shooting + capable defenders = a really good team. There are ways it can go wrong, for sure, but there are way more ways it can go right. There are some holes they'd surely like to fill — a big wing defender and another pick and roll ball handler are at the top of the list — but every team has questions. This is not the same league we saw where the Warriors were an overwhelming favorite to win the title and everyone else was playing for 2nd place.
No, this league is wide open and that means a bunch of teams whose playoff chances will likely come down to a couple of key matchups and whether the group in place can come together at the right time with a couple of role players stepping up in ways that turn current questions into future solutions. Why can't the Lakers be one of the last teams standing when this is the landscape of the league? I know there are practical answers to put them behind other teams whose strengths are more easily defined and key players slotted more cleanly. I also know with LeBron and Davis as the foundation, pushing this team too far back might be overthinking things.
Maybe this season proves the Lakers aren't good enough to actually win a championship. Maybe title or bust will be unrealistic once again. Or maybe the Lakers have the right mix to hover near the head of the pack and show that, once again, the idea of having two of the league's top 5-6 players is more meaningful than the questions about the players who surround them. However it plays out, none of it would surprise. Which makes this Lakers team worth watching and rooting for nightly.
And a return to that is something I'll take any day of the week.