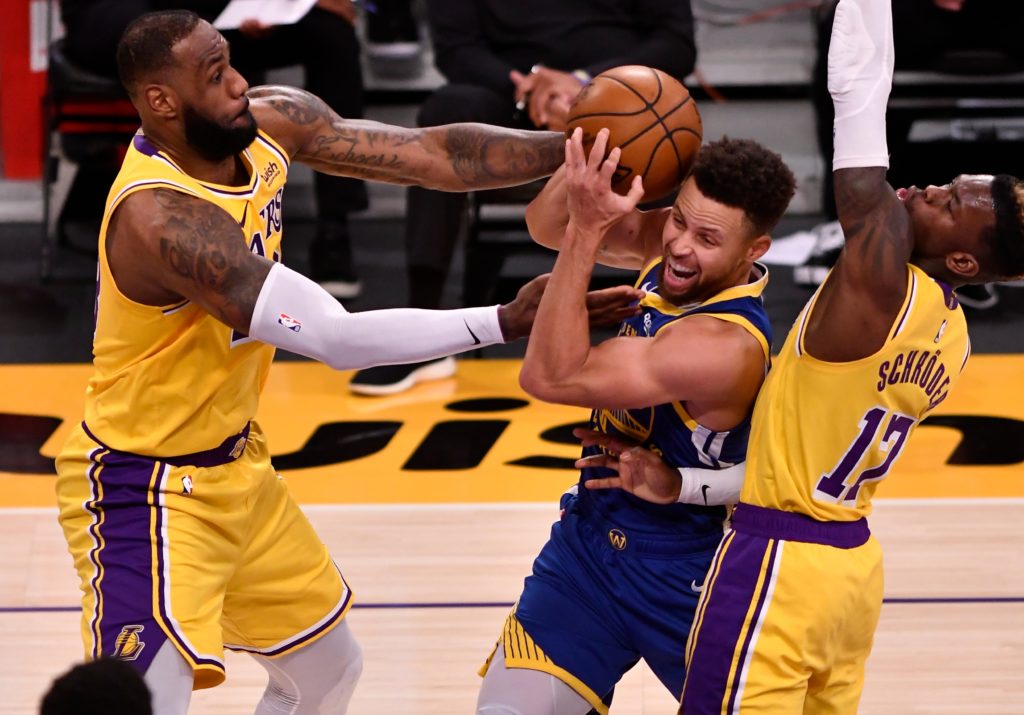 I'm getting right to it today. The Lakers play the Warriors for the right to pass "go" collect their $200, and go right into a playoff matchup with the Suns. The loser will get the winner of Spurs/Grizzlies in a single elimination game whose loser begins their off-season immediately after. The stakes for the Lakers and Warriors tonight, then, are fairly high. As my guy Pete Zayas said on a recent pod, it's like a playoff game where both teams are up 3-2. Yes, you get another chance if you lose, but better to close things out now rather than get into a winner takes all scenario.
The X's and O's of this game are very interesting and both teams should come in with a healthy amount of appropriate fear. For the Lakers, their fear resides in Steph Curry and his ability to score from, well, everywhere. His shooting ability sits at the top of the marquee, but that ability to score from 40 feet from the basket only amplifies his shiftiness and craft to get all the way to the rim and score around/underneath/over the top of big men. His great shooting also translates to mid-range success, so there's no good answer of "let him shoot from here and everything will be okay".
For the Lakers, then, I expect their gameplan to mirror what they do with Damian Lillard. That is, play aggressively at the point of attack to dissuade 3-point attempts, funnel to the paint, and then rotate early and aggressively to challenge shots in the restricted area with size and length. This, on its own, is challenging enough. Steph understands teams don't want him to shoot threes and he still finds a way to take more than 10 of them a game. He knows that possessions don't end after he passes, and instead is a master of passing to set up his next shot by then relocating and masterfully using jukes, feints, hand fighting, and off-ball screens to find the crease he needs to get off shots. He also knows that a live dribble is his best friend, so he's more than happy to back-dribble away from pressure, draw you out, then pass, then relocate for a jumper via a back cut or by running into a handoff from the guy he just passed to.
And he does all this relentlessly. Never stopping, never coming up for air, never relaxing. He makes you keep up, forcing you to stay physically and mentally sharp for every second he's on the floor. If you mess up, there he is, open and taking the jumper your whole gameplan says you do not want him taking. To this point, then, the biggest thing the Lakers can be with Steph is engaged and smart. Do not foul, do not take false steps, do not fall asleep after he passes, and be aware in on and off ball screen situations to ensure you're up at a high enough level to not give him clean looks on the catch or when he's handling the ball himself in the P&R.
This, then, is a team wide responsibility. We can talk Dennis and KCP and Caruso, all of whom offer good ability to navigate screens and enough physical tools (size, quickness, good hands) to be in good position, but as much responsibility as they'll have it is the Lakers bigs who need to be just as smart. Staying within proper contest distance while also not ignoring your own man who is screening (or a part of a screen action) requires a lot of smarts and mental engagement. The Warriors will use Steph to screen, will use handoff and off ball actions, only to have the non-Steph player in the equation flash or slip into open space for a layup. So, AD, Drummond, and/or Marc/Trez will need to be at the top their respective games defensively to not get caught in bad positions, basically, ever.1To be clear, we know this isn't possible. Steph is going to shake free, he's going to score, he's going to hit a baseline level of outside shots. He's the scoring champ for a reason. But the fewer mistakes you make the fewer free chances you give him. And THAT is the real goal here.
In terms of the other Warriors, Draymond is the other key guy. He's the prime decision maker and the best partner Steph has to help generate these looks. The Lakers must also stay attached to Draymond and, when helping off him, rotate to him early to force him to get rid of the ball quickly or force a reset of the action rather than get downhill and play with a man advantage. Turn him into a player who must look for his own offense more often than he wants or force him to move the ball onto players who are not as used to being decision makers within the Warriors motion sets.
The other player who needs to be accounted for is Wiggins. We can all make jokes about Wiggins, but he's a good NBA player who, when slotted appropriately, can play to his strengths as a wide open jump shooter and a downhill player who can score at the basket. The Lakers must force him into more possessions where he has to create his own shots and, hopefully, put him into positions where those shots are long jumpers rather than attempts at the rim. Make Wiggins play as a top option rather than a complementary one and see if he's able to hurt you all game.
Of course, the aforementioned idea of appropriate fear goes both ways. And while Vogel has probably not slept much this week in trying to figure out ways to slow down Steph, the same is true for Kerr when he's trying to figure out ways to slow down LeBron and AD, while also neutralizing the rest of the Lakers size advantages.
I won't get too much into the individual strengths of Bron and AD. We know what those are and how deadly they can be as individual threats. We also know that Draymond and Wiggins will have their hands full and without Oubre as a supplementary wing defender, the task of slowing down Bron becomes more difficult when you get down to defenders like Bazemore and Toscano-Anderson. AD will likely see his minutes mirrored by Draymond, but I'd imagine Looney will also get some chances there too.
My focus, then, isn't so much on what Bron and AD can do, but rather the approach they take to get to their spots and the tempo the team plays with when trying to get them there. How much will AD and Bron post up? How much P&R will the team run? How much will they push the pace? How much zone will the Warriors play? How often will they double? The answers to these questions will determine the shape the Lakers offense takes and how much they have to rely on the likes of Drummond and/or Trez as secondary interior scorers and offensive rebounders, and KCP, Wes, Dennis, Caruso, Kuz, and THT as shooters. Of course, if any of those role players have a big night, the Lakers chances of winning go way up, but how much they're forced into action vs. how much the Lakers set them up for the action can have a big impact on their success.
Speaking of the role players, there's two guys who I'm most interested in watching tonight: Dennis and Drummond.
For Dennis, he has plenty of playoff experience and has enough scoring capability to really impact this game. If he finds himself on switches vs. Looney, I expect him to attack the rim and hunt layups or kickout/dump-off passes to teammates when the help comes. I also expect him to run a fair amount of P&R with whatever big he shares the floor with and continue to be aggressive in getting into the paint. What I'm less sure about are all the other possessions where he needs to get the team into the right sets and how comfortable he is shooting (and making) his outside shot when he's helped off of. If Dennis can have an efficient scoring night, that, right there, can be the difference in this game being close to it not being close at all.
As for Drummond, this will be his biggest test as a member of the Lakers. He'll be targeted defensively and will need to make plays offensively on the backboards and as a finisher when the opportunities are there. He's talented enough on both ends of the floor to be a positive contributor. But the stakes of this game are fairly high and he's not a guy who has played in a lot of high stakes games. If he's up to the challenge, his size will make a huge difference. If he's not up to it, Marc and/or Trez become more vital.2To be clear, Marc may be vital anyway. His defensive smarts and shooting ability may be exactly what the Lakers need to punish the Warriors at the rim with Bron/AD/Dennis. So, just keep an eye out for him in general, even if the Warriors will look to run him off the floor by playing faster.
If there's a few other keys for me, they're FT's, rebounding, and turnovers. The Warriors can be foul prone, and if Draymond and/or Looney get into trouble, the Warriors will have a steeper hill to climb. As for rebounding, the biggest question of the game is whether the Warriors can effectively gang rebound and keep the Lakers bigs off the offensive backboards. If they can't, the Lakers will win the possession game and the battle in the paint, which is difficult to overcome even with good outside shooting. Turnovers can be a problem for both teams and should be at the top of the list of concerns for both sides. If the Lakers are careless with the ball, the Warriors not only get more possessions, but can go on scoring runs that, for a drought-prone Lakers team, can be problematic. If the Warriors don't take care of the ball, the Lakers will run for easy baskets. And, if they're also already doing damage on the O-glass, is just another way to win the possession game.
In the end, the Lakers have enough size and talent to win this game going away. Bron's health will be a big key in this, but if he's ready to go and is able to get downhill on drives and force double teams when he's posting up, the Lakers will generate the types of looks that can give them major advantages in shot quality over the course of a full game. Add AD into this mix, and with the Lakers combination of size and athleticism on the frontline, they project to give the Warriors real problems. Of course, Steph Curry can be the ultimate matchup shifter. His combination of individual scoring and the amount of attention he draws — which opens up teammates for easier shots — can get his team rolling quickly.
So, an appropriate fear is needed. But, the Lakers must also know that playing their best means they win this game. Now, it's just a matter of doing it. I cannot wait to see if they're capable.
Where you can watch: 7:00pm start time on ESPN.